The last time CD East had the ball in the first half, the Panthers raced 57 yards in 50 seconds to grab a two-score lead. On their first possession of the second half they went 80 yards on the ground in 11 plays to increase their lead to 21 points.
That was how CD East beat rival Central Dauphin on the scoreboard Friday night. Everywhere else the Panthers were far and away the better team. When it became 21-0 early in the third quarter, it was clear the winner was going to be CD East.
If you know Central Pennsylvania football, in this rivalry, that is not normal. It's almost always the other way around. NOT this time. CD East was balanced and played complementary football across the board to overpower the Rams. And make no mistake, this wasn't about speed and flash. This was all about power, being physical and aggressive.
Time to hand out some grades.
CENTRAL DAUPHIN EAST PANTHERS
Quarterback: Terrence Jackson-Copney started for the Panthers and played well, but Tony Powell saw plenty of snaps as well. Combined, the duo threw for more than 200 yards with a pair of touchdowns. They are very different quarterbacks. Jackson-Copney, who doubles as a pretty good wideout, brings an element in the run game that Powell doesn't have. But Powell is the better pure passer and throws an enticing deep ball. Both were very good. I don't know if the plan was to use both equally, but on this night it worked well. Grade: A-
Running Back: Marcel McDaniels, all 160 pounds of him, is a horse. He is durable and consistent. He carried the ball 30 times for 178 yards and a pair of touchdowns. He's fast to the edgenbut is at his very best inside the tackles and making cuts and reads at the second level. He did a double stick his foot in the ground and cut move on the same carry. It was a difference maker. When Powell was under center you knew he was getting the ball, too. Grade: A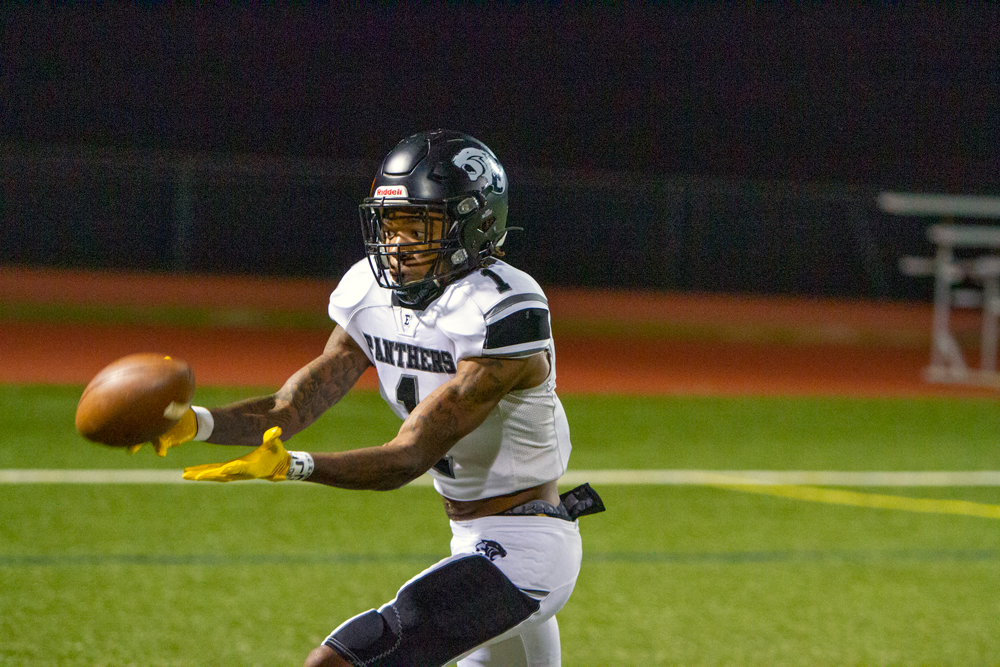 Wide Receivers: Penn State 2022 recruit Mehki Flowers was a huge asset in the short passing game. It's not a flashy role, but he was very effective at getting yards after the catch, and that's what the defense was giving him. So, he took it. I thought taking those short passes and making them work was the hidden key to victory. Nine catches for 94 yards with a touchdown in this game was a huge night. Tymere Thornton had three grabs for 80 yards. At 6-foot-6, he's a nightmare matchup and the Panthers exploited his size with deep shots. He had another 50-yard grab that was inches out of bounds. Those two were a wicked 1-2 punch. Grade: A
Offensive Line: When your running back goes for 178 and a couple tuddy runs and you average 5.8 yards per carry, you did your job. But in my book, this group was the ultimate difference maker. Enjoy the weekend, lads. You earned it. The pass blocking was simply stellar. Neither quarterback faced much pressure at all. Don't overlook the value of that 'cause the other team blitzes a lot. Grade: A+
Defensive Line: When you play Central Dauphin's offense, gap discipline and not getting shoved out of your lane is critical. And on that front this group was very good. I don't recall a big run that wasn't a scramble by the quarterback. And the heat on the QB was there all game and produced results. Marcario Clark and Cameron Livingston both were on point most of the night. Grade: A
Linebackers: Thaddeus Krebbs is a 150-pound big-school linebacker who plays like he's a 220-pound wrecking ball. The catch is he's fast and tackles very well. He was everywhere. Jekari Rivera-Mauldin brought plenty of heat off the edge and held serve on plenty of those jet sweeps. Grade: A
Secondary: This group struggled and allowed this game to be closer on the scoreboard than it really was. Got beat on too many deep shots, got nabbed for DPI and holding a few times and looked sluggish in coverage all game. I know they are better than this. This night, though, they were not good. Grade: C-
Special Teams: The short kickoffs were a testament to trusting the defense, because that's a lot of field position to surrender. Kicking game was fine on extra points, and Nickolas Bloss was 1-for-2 on field goals. That first one on the opening drive from 39 yards wasn't really all that close. Something went wrong with the snap and hold it appeared.  Grade: B
CENTRAL DAUPHIN RAMS
Quarterback: Max Mosey is asked to do a lot for this offense, and from what I saw, against a defense that is hard-charging and aggressive, he did his part. He threw with touch on the deep shots and was elusive in the pocket to keep plays alive. He didn't have much time. His numbers, 8-20-1, aren't great. But if you watched the game, you know he was pretty darn good. I wish the Rams offense had a little more in between the hashes for him in the passing game. He spins a nice ball. Grade: B
Running Back: Tyrell English runs hard and can push a pile by himself, but he's not a pure running back. He's a pounder, and against CD East those yards are hard to come by even for a 220-pound physical back. Zion Allen is the jet-sweep guy and never found an edge that was open. Combined, this duo managed only 71 yards on 20 carries. Grade: C+
Wide Receivers: The Rams have some options, and they made some tough catches in tight windows. Andre Noel finds his way open short and deep. But he had only four catches for 59 yards in a game CD trailed by 21 early in the third quarter. David Chase III is a multi-use guy who also gets carries in the run game but ran a stellar route in the seam for his 61-yard grab. Grade: B-
Offensive Line: It is not easy to run the ball against this CD East defense, so there is an expectation you have to put in play here. They were efficient at the point of attack but could not sustain blocks long enough to get those second- and third-level yards. It was tough sledding. They struggled in pass protection. The pressure was consistent, and it came from everywhere. Grade: C
Defensive Line: For most of the night this group was going nowhere or backwards. They were simply overpowered in the run game and created very, very little or no pressure up the middle in the pass rush. Grade: C-
Linebackers: After getting burned a couple times early, OLBs Chase III and Randy Rudy made the adjustments on the fly and held the edge pretty solid the rest of the way. It was the inside linebackers that really struggled. CD East did most of its damage on inside run plays or QB draws. The Panthers ILBs never impacted the game up the middle. It was open season. The outside 'backers saved this grade from being lower. Grade: B-
Secondary: Overall, the corners, who played well all night, did a respectable job. Not too many big plays, they tackled well in space. The deep safety, sometimes 20-25 yards off the ball, didn't allow any monster big plays to do much damage, and Zion had an interception. The couple completions right before the half on the quick touchdown drive were killers, though. Grade: C+
Special Teams: In the return game, the short kicks were not a problem, and the Rams set themselves up in good field position all night. Offense just couldn't take advantage of it. A short punt just before the half, covering only 24 yards, gave CD East really good field position and eventually led to a score. Grade: B-