Such a solid Week 4 of high school football in the Mid-Penn Conference. It was nice to be into division play and to start comparing those apples to apples, right? Yes, there were a couple blowouts, but across the board it was a solid slate of entertaining and engaging games. Golf clap all around!
What grabbed my attention right off the jump from the Friday night results was Mechanicsburg taking out Boiling Springs in a wild 39-34 victory. I knew the Wildcats would present problems the Bubblers had not faced yet this season, and I thought Boiling Springs was ready to handle it. They were not, particularly defensively. The offense put 34 points on the board, and that's a job well done against that defense.
Wildcats RB Parker Sample is growing into his role as the RB1 and feature player in this offense. He's been a solid back all season, but 22 totes for 245 yards and four touchdowns is next level. Mechanicsburg is a ground-and-pound offense now, and the transition from quarterback-focused a year ago to this new look isn't easy. A 3-1 record, though, speaks volumes for the coaching staff.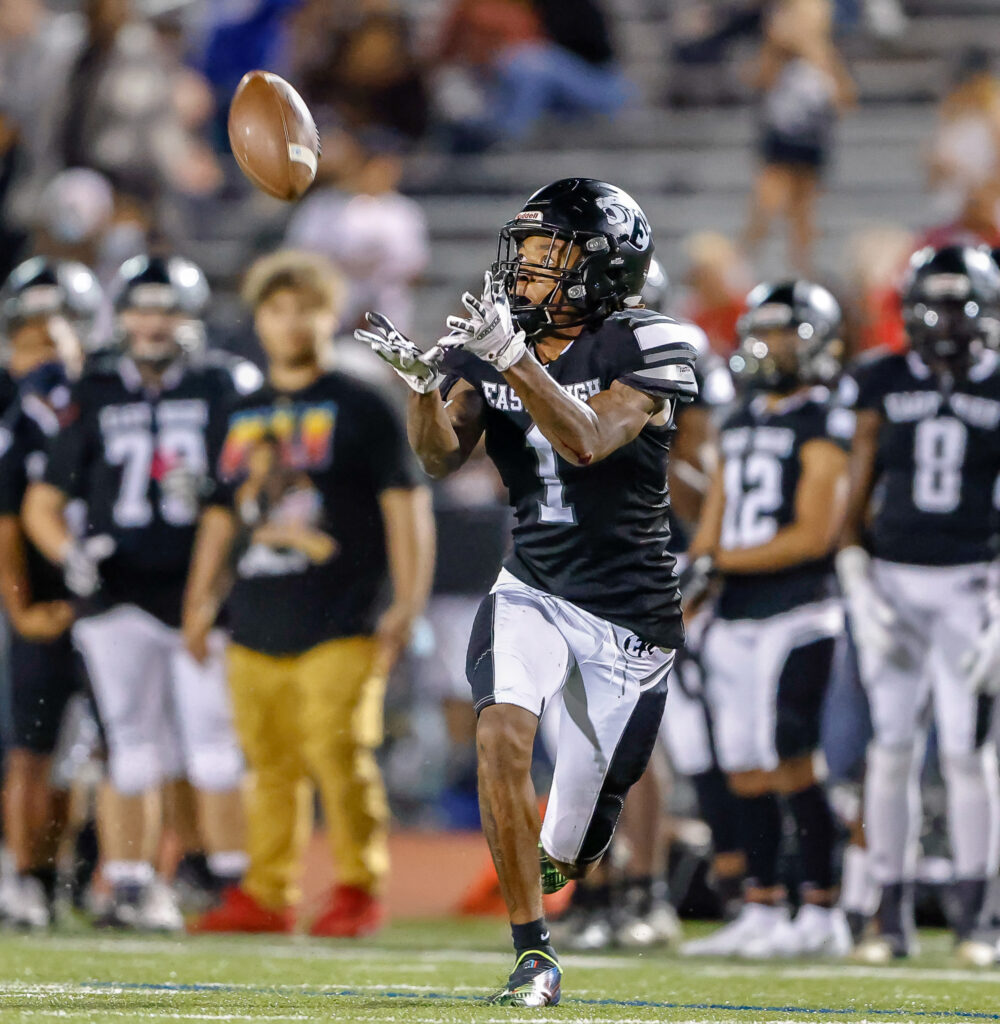 CD East is going to have a say in the Commonwealth Division this season. The Panthers are 3-1 after a convincing road victory at previously unbeaten Altoona. And it doesn't feel like the Mountain Lions played a sub-par game. CD East went out and took this one.
Mehki Flowers had been doing a lot of everything else to help his new squad the first three weeks, minus the big numbers. Hello, big numbers for the Penn State recruit — five catches, 150 yards and three touchdowns. Marcel McDaniels continues to expand his role as the RB1, racking up 187 yards on the ground. And Terrence Jackson-Copney has to be the No. 1 quarterback at this point. All he's done is win.
The 4th Down Magazine Game of the Week was a very entertaining Colonial Division contest between Greencastle-Antrim and East Pennsboro. Panthers running back Sy Burgos tallied 210 yards including 40 and 66-yard touchdowns. It lived up to its Crazy Colonial billing. Read the full game report and Make the Grade from the Panthers' 26-19 come-from-behind victory.
If you are surprised by the Harrisburg score against Governor Mifflin, then you aren't paying attention. The Cougars were up to the task for a half, but the Mustangs are a really, really good team and Harrisburg has been through a grinder. Think about it, on the road at Pine-Richland to start, followed by a road trip to Hazleton. Then Manheim Township on short notice and another quick-notice game with state power Mifflin. And the Cougars are 3-1. Yeah, give me Harrisburg against anybody else. This group is competing at another level, and it's not all based on talent. This loss goes down in my book as one of those rare good ones despite the score. Depth isn't a luxury Harrisburg has, and Mifflin demands a lot over 48 minutes.
Congratulations to Lower Dauphin for winning back-to-back games for the first time in four years. RB Jacob Kauffman made it so with 233 yards and all three touchdowns for his squad. The defense holding Mifflin County to a field goal was a factor, too.
Cumberland Valley grinding out a win over previously unbeaten Carlisle was the kind of result that was expected. The Thundering Herd weren't quite sure they could play at this level, the Eagles had their way for three quarters and built a comfortable lead before Carlisle rallied late. Both squads are on more solid footing going forward because of how this game went down. CV needed the win badly, and Carlisle now knows a lot more about itself going forward. One of those rare win-win scenarios.
Why hello Big Spring. I was certain the Bulldogs were the better squad against the Susquenita, a team on an upset roll. QB Ethan Eisenberg made sure that run of upsets didn't continue with one of those rare perfect outings. He attempted only five passes but completed them all with three of them going for touchdowns and 186 passing yards. That's a ridiculous 37.2 yards per completion.
Logan Schmidt had five total touchdowns as the Bulldogs dropped a 60-burger on the Hawks. Schmidt had three rushing touchdowns, caught a TD pass and returned a kickoff 84 yards to the house. Always helps to have a versatile athlete who does that much damage.
Red Land dropped to 0-4 with what can be best classified as another close-but-no-cigar loss. The Patriots have been in every game this season with an opportunity to get a W. Nobody has rolled them, including rival Cedar Cliff in a game that was tight all the way.
It was a nice bounceback win for the Colts, though, after getting physically worked over by CD East. RB Jontae Morris is rounding into post-injury form with his best outing of the season against the Patriots. Morris had 224 yards and three touchdowns to grab first star honors in the West Shore School District rivalry contest.
Congratulations to Milton Hershey for claiming the Cocoa Bean Bowl with a narrow 25-20 victory over rival Derry Township School District — better known as Hershey. Dion Bryant worked hard for his 100-plus yard outing to power the Spartans. Three end zone trips is a difference maker.
Bishop McDevitt and Trinity each scored 70 or more points. Was there a Central Pennsylvania Catholic School football directive that was sent out I missed? I know the Crusaders are good. Trinity I need to see in person sooner than later to figure out what new coach Jordan Hill and his staff of MPC alums are cooking in Shiremanstown.
Middletown is still finding its way, but four touchdowns from Audric Bryant, three of them rushing, helps a great deal. The Blue Raiders were always going to overwhelm Newport and win the game. How they did and what they learned about some potential key players is invaluable. Bryant could be the feature back they need.
Upper Dauphin is now the heavy favorite in the Liberty Division. Drubbing Camp Hill by four touchdowns sent a clear message who the top dog in the new division in terms of teams in the MPC but a division with an old name. Alex Hepler, Brady Morgan and Christian Snyder combined for 278 yards on the ground. Balance is always key and three is better than two, always. Trojans are 3-1.
But Alex Hepler was pretty good, too. And Brady Morgan and Christian Snyder were not bad either. Together, they combined for 278 of their team's nearly 400 yards on the ground to help the Trojans move to 3-1 on the season.
On Saturday, Shippensburg took care of business with a tidy 37-7 defeat of Susquehanna Twp. behind a strong performance from Tucker Chamberlin. Those Greyhounds are now 4-0–the only undefeated team in the Crazy Colonial.
Steel-High's Daivin Pryor exploded for five touchdowns and 256 yards of offense as the Rollers continued to post on its opponents, this week clubbing Juniata 53-19.