Up two scores late in the third quarter on the heels of the second interception in as many possessions, it looked like Greencastle-Antrim was going to pull off a victory at East Pennsboro.
They were in charge. Momentum was on the Blue Devils side, and they had the ball at the Panthers 20-yard line with a chance to make it a three-score game. The ball was rolling downhill.
Then East Pennsboro came up with its only turnover, a pick in the end zone to avoid going down three touchdowns, and the game changed in a flash. The fourth quarter belonged to the Panthers' offensive line and backs Sy Burgos and Devin Shepherd. They simply took over in the come-from-behind 27-19 win where East Pennsboro scored the final 20 points.
Time to hand out some grades.
GREENCASTLE-ANTRIM BLUE DEVILS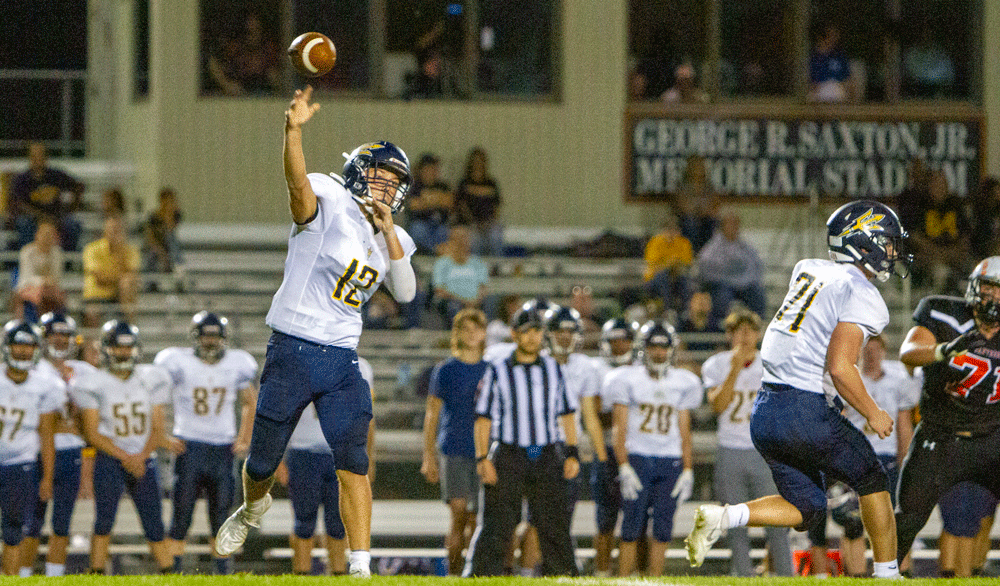 Quarterback: Taylor Conrad is a very good high school quarterback because he makes a lot of very good decisions, is an accurate short passer and has some pop on his passes. He completed 11 of 17 throws, and there were a couple clear drops. That interception he threw was a good throw. The defensive back just made a better play and won the race to the spot. Zero fault to him on that throw. Most of the way it looked like a touchdown until the last second. Grade: B
Running Back: There's a mix-and-match with several guys getting touches, but the load is carried by David Niebauer. He's not easy to bring down, either, on first contact. He finished with 84 yards and a touchdown and averaged 4.7 a carry. Tavon Cooper on the jet sweeps runs really, really hard and has some speed on the edge. He also had a good game. Grade: B
Wide Receivers: Cooper is more of a catch-and-run guy, but he also had a couple key drops late. The two balls that were thrown deep down the field were nice grabs by the receivers to pick up huge chunks. Their receivers are exactly what they need in this offense. Nothing overwhelming, though. Grade: C+
Offensive Line: When you average 4.5 yards per carry, that is a job well done at this level. I thought they were above average at pass protection as well in terms of keeping the pocket clean. When it came to those critical downs, third and fourth down, they struggled a bit. Grade: C+
Defensive Line: For the better part of three quarters, this group was making a real impact on the game. They were holding the middle and getting home in the pass rush big-time. Bryce Kaiser was a monster and his motor was all-out. The fourth quarter when the Panthers went inside, the wear-and-tear of going both ways showed up, and they simply wore down. Grade: B-
Linebackers: Logan Shifflett in the middle was having himself a night with plenty of solo stops and an interception. Then he lost the battle to cramps and was less effective down the stretch. The edge wasn't available pretty much all game and that was downright impressive against a guy with Burgos' speed in the open field. Grade: B
Secondary: This wasn't about pass defense. For the Blue Devils secondary, it was all about tackling in space and run support. And they were simply splendid all game. Ethan Shank was in the right spot almost every time and stood out. Plus an interception to boot when the other team had only six attempts. Overall high marks. Grade: A-
Special Teams: Kicker Nathan Kirkwood is the best I've seen all season. Down a point late in the fourth quarter they sent him out to look at attempting a 50-yard field goal to take the lead. With his leg, I could see it. But after a timeout, the Blue Devils went for it and failed. Kirkwood didn't give any chance for returns as all four of his kickoffs went for touchbacks. Now punting, clearly not his thing but it didn't impact the game. Also thought the Blue Devils return game gained them field position. The blocked PAT was a bad snap. Grade: A-
EAST PENNSBORO PANTHERS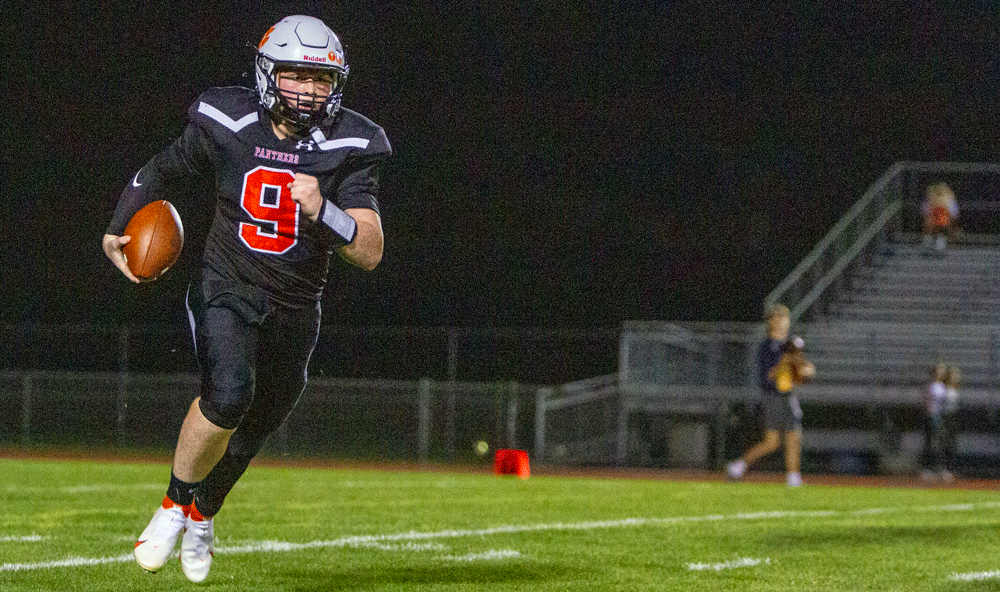 Quarterback: Keith Oates is only a sophomore, and this was another chance to catch up to the speed of the varsity game. He attempted only six passes but had two interceptions. The one was tipped, so that's a throwaway. The other one was a bad decision. In fairness, he didn't have much time to look downfield when he dropped back to throw. He was sacked a few times. I will give him the highest marks for scooping up all those low snaps and making the play still go. That was an issue. Grade: C-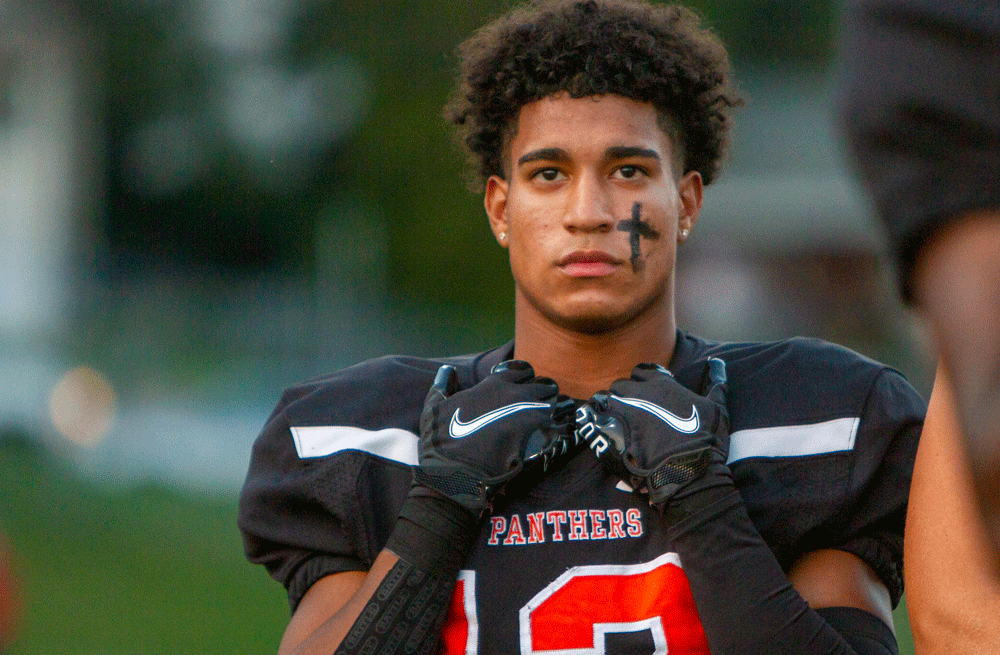 Running Back: Everyone knows Sy Burgo is fast. He gets a crack and most times he is gone. And he did break free a couple times, once early and once late for big runs. I was impressed how he ran north-south in the fourth quarter and hit the hole with authority. He's becoming a better back and had 210 yards to show it. In order for Burgos to flash and line up as an RB in the fourth quarter, instead of as a wideout, you can't overlook the work of Devin Shepherd. He credited his OL for the work, but the way he pounded the rock inside then flashed on the edge set everything up. His 85 yards on only eight totes was the hidden key to victory. Grade: A
Wide Receivers: Who knows, right? Only six passes attempted and two of those were intercepted. They have a lot of guys line up at the wideout spot, nobody saw the rock. Grade: Incomplete
Offensive Line: As the game wore on this group simply took over and made sure the comeback could be completed. I will say the low snaps and the pass blocking need some attention paid to them. But in terms of straight-up blocking in the fourth quarter, it doesn't look much better than what this group displayed. Grade: A-
Defensive Line: Josh Angelo is only a sophomore, and he's already 245 pounds and has quick feet. He was a problem all night for G-A and had a couple sacks and a TFL. He also doubled as a fullback down the stretch. There was a period in the second and third quarter where this group struggled at times. They found their game when it mattered most, though. Grade: B
Linebackers: Shepherd and Harrison Laman carry a big level of responsibility with this defense, and that's obvious. They are asked to do a lot. For the most part they did their jobs. The outside backers didn't set the edge with any regularity, though. Grade: B
Secondary: Dakota Campbell could play corner for anybody. He's extremely active in run support and tackles fundamentally sound. They did get beat on a couple big plays for chunks with bad coverage. The pick by Ethan Campbell, though, was special because it never looked like an interception. Great individual effort by him to make the pick that turned the game around. Grade: B

Special Teams: Campbell is also a very good kicker, and he might not have the same leg as his counterpart in this one, but he's a much better punter. I thought the kick coverage was soft and gave up too many yards to field position. Nothing out of the return game because the other kicker from the other team kicks bombs, and two of his three punts went out of bounds. Grade: C+