We're taking a look around our coverage area to see who helped themselves this week and who did not as we move into Week No. 5 of the high school football season.
STOCK UP
Cedar Cliff RB Jontae Morris:
When you are in a tight spot and have a clutch running back your quarterback can turn and hand the ball to knowing that dude is going to deliver more often than not, that ends up being a difference maker. Cedar Cliff was in a dog fight with West Shore School District rival Red Land. The Colts have a clutch running back, but he's been getting back to form this season after losing all of last year to a torn ACL. The recovery from any injury like that is always as much mental as physical. Morris is a talented back and was working back into form. Against the Patriots in a tight game he exploded for 224 yards and three touchdowns to pilot the Colts to victory. Morris is back. Through four games he's totaled 553 yards, has six touchdowns and is averaging a stellar 7.5 yards per carry. This was the game where they needed him to be all the way back, and he delivered. Everybody loves a good comeback story.
East Pennsboro RB Sy Burgos:
East Pennsboro running back Sy Burgos is a lethal east-west type back who probes for a crack to turn on the jets. When that happens, he's gone. Everyone knows that's his game in a nutshell. I'm here to say that thinking might need to be re-evaluated after what he did down the stretch in a come-from-behind win over Greencastle-Antrim. Give the Blue Devils defense full credit, they had the Panthers and Burgos bottled up with their outside runs. He broke free once and that was it. So, the Panthers went with a Plan B the second half. The offense, behind an OL that moves folks out of the way, went straight north-south and scrapped the edge stuff. There was Burgos hitting the hole with authority, slamming away and getting yards after contact. And if a seam existed he was off to the open spaces in a real hurry. And when we say slamming away and hitting the hole, this was out of the old-school Power-I formation with a fullback leading the way with every run inside the tackles. It was impressive for a guy with so much talent in open spaces to work that hard in the tough-yards quarters.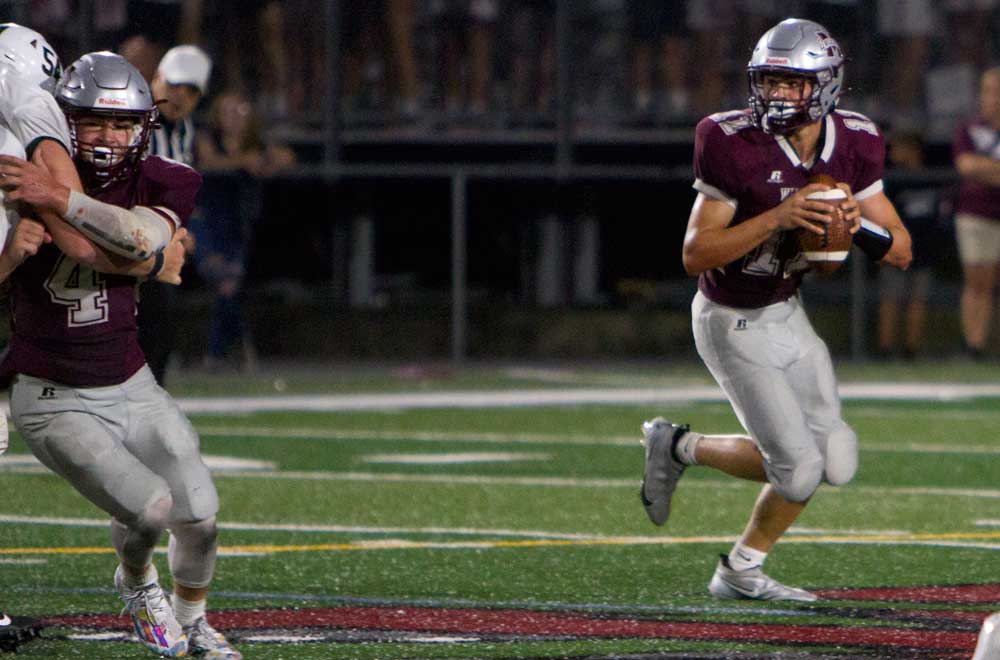 Mid-Penn Colonial Division:
The Wild, Wild West of the Mid-Penn Conference, aka the Colonial Division, is off to the races. Where this ends up is still a mystery even after the first week of division games. Shippensburg is 4-0, but Waynesboro, Mechanicsburg and East Pennsboro are each 3-1. Northern is 2-1 and Greencastle-Antrim — trust me when I say this team is going to present those upper echelon teams some real problems — and West Perry are each 2-2. Shippensburg and Waynesboro are the odds-on favorites right now, but Mechanicsburg has found its identity and East Pennsboro has some weapons. And I can't emphasize enough, the Blue Devils are going to create mayhem by knocking off one of those one-loss teams. Enjoy the ride!
STOCK DOWN
Greencastle-Antrim's discipline:
You can point out 10 different ways to analyze a loss in a close game that comes down to the wire. I'm not sure Greencastle-Antrim has to look further than five 15-yard penalties in a one-score loss to East Pennsboro. What I'm talking about is small disadvantages in an air-tight game. That's 75 yards of field position when every yard matters. That's almost like starting the game down 7-0 from my chair. I've been to four games this season, and I've seen three of them clearly over officiated. And by that I mean they don't have a feel for the game, instead they are making strictly by-the-book calls. And this game was massively over officiated. Still, when you rack up that many 15-yard calls against you, the margin for error shrinks dramatically.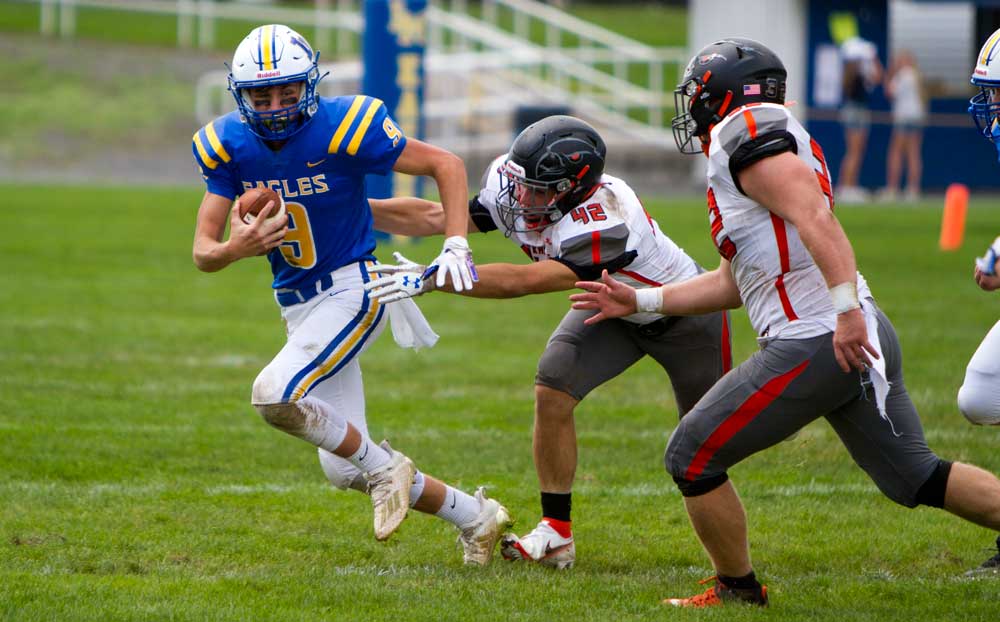 Line Mountain, Halifax:
Line Mountain and Halifax, a couple former Tri-Valley League squads who are now members of the current Mid-Penn Liberty Division, are struggling big time. They have a combined record of 0-7 overall and are each battling a different enemy. The Eagles can't score, registering only 12 points in 12 quarters. Halifax and its short roster has allowed a staggering 231 points in only four games. The Wildcats have scored some points, but allowing nearly 58 points a game creates an instant inability to compete. Tough seeing a couple of TVL hammers scrambling to be competitive in the MPC this season.