Each week during the 2021 season we'll offer some news, notes, tidbits and opinions from each of the five divisions in the Mid-Penn Conference.
Perhaps this is the weekend …
Stung repeatedly throughout its first four outings while yielding large numbers of points, Earl Mosley's winless Halifax Wildcats (0-4) have a chance to reel in a much-needed result when something called Renaissance Academy (0-2) makes the lengthy trek from suburban Philadelphia (Phoenixville) to northern Dauphin County.
If the 'Cats are going to get it done, sophomore quarterback Carter Enders will be the guy lighting the fuse. Running the ball has not been a Halifax strength thus far, but if Enders can find a rhythm throwing it, classmate Peter Ranck will catch it.
Line Mountain looking to get back into action
Shut down last weekend, Line Mountain (0-3) will be trying to pin down its first victory when a sliding Camp Hill side (2-2) pulls into Ressler Field for a Mid-Penn crossover. Virtually disdaining the ground game, Tim Bigelow's Lions are going to toss the ball all over the yard, meaning Brandon Carson's Eagles will need to get some pressure up front and quality coverage deep from the likes of Aidan Herb, Aidan Kritzer, Nolan Baumert and Connor Finlan.
Camp Hill used big plays on third and fourth down a season ago en route to a 35-28 victory, even though Jacob Feese and Garret Laudenslager each collected 100-plus yards for the Eagles. Carson's Eagles showed signs of generating consistent offense two weeks ago in their loss to Middletown, but getting backs Beau Keim and Ian Bates untracked is key. So is keeping sophomore quarterback Nick Snyder upright so he has time to throw. Tight end/kicker Brayden Boyer, who has been Snyder's favorite target while providing all of the Eagles' points in Weeks 1 and 2, may be a player to watch.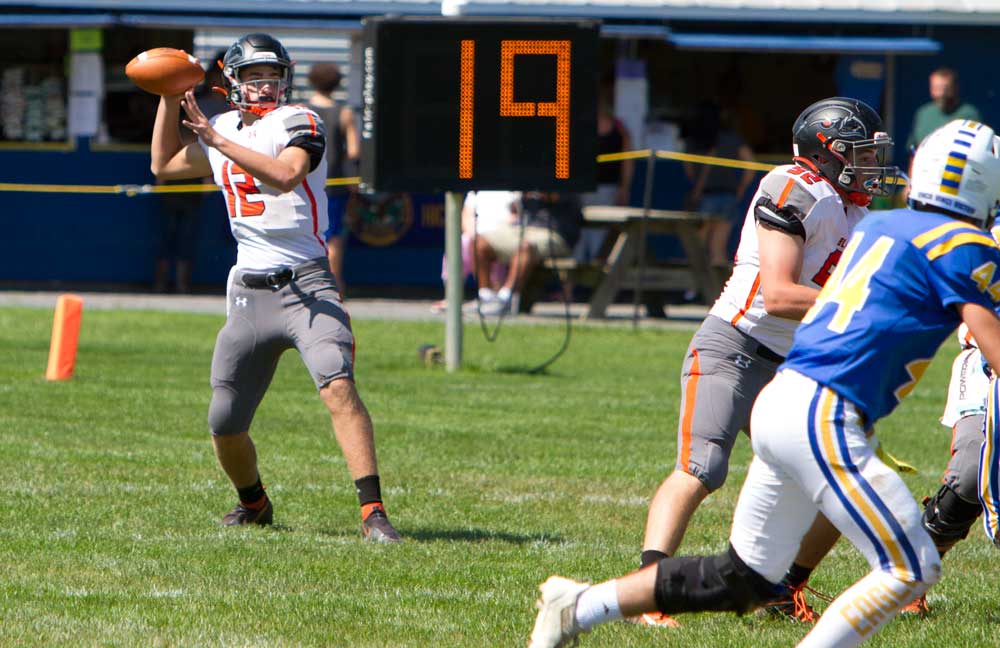 Several squads hoping to halt skids
While Susquenita (2-1) will be looking to rebound from its 60-20 shellacking at Big Spring with a victory over visiting Boiling Springs, several other Liberty squads are stuck in longer slides. Juniata (2-2) has lost two straight, but the Indians will host a Middletown outfit (2-1) that's won two in a row. … James Buchanan (1-3) has dropped its last two, but the Rockets will meet a Big Spring bunch (3-1) that can bank big numbers in a hurry. … And Newport (1-3) will try to halt a three-game skid when Trinity (2-1) rumbles into Katchmer Field.
Upper Dauphin's two-game win streak on hold
Turning back Mid-Penn Capital programs Trinity and Camp Hill, surging Upper Dauphin (3-1) was all set to entertain top-ranked Class 1A hammer Steel-High (4-0) at Trojan Stadium. Kent Smeltz's club will be idled, however, since UD is dealing with COVID-19 issues. Christian Snyder, Brady Morgan and Alex Hepler combined for nearly 300 rushing yards and five touchdowns in the Trojans' 42-12 success at Camp Hill. Hepler also caught a 42-yard TD pass from Wil Laskowski for an Upper Dauphin outfit that was sitting on a 28-6 halftime cushion. Steel-High has yet to be tested thus far, collecting 50 or more points in all of its four victories.