CD East led wire-to-wire against previously unbeaten Cedar Cliff, and really the final score, 20-7, was closer than it should have been. The Panthers dominated with strong ball control with their backup quarterback, Terrence Jackson-Copney, making his first start after coming in last week to replace injured starter Tony Powell and guiding the Panthers to a come-from-behind victory.
The overall team speed of CD East was a problem the Colts could not solve. On many fronts you could make a fair argument Cedar Cliff didn't play a bad game. They just could not get going offensively and that for a very good reason — the Panthers' lockdown defense.
CD East didn't have any turnovers, a trend that's been working for them in all three games. This one, though, penalties were a problem. Racking up 131 yards on 12 accepted penalties will lose you big games. That has to be cleaned up.
Time to hand out some grades.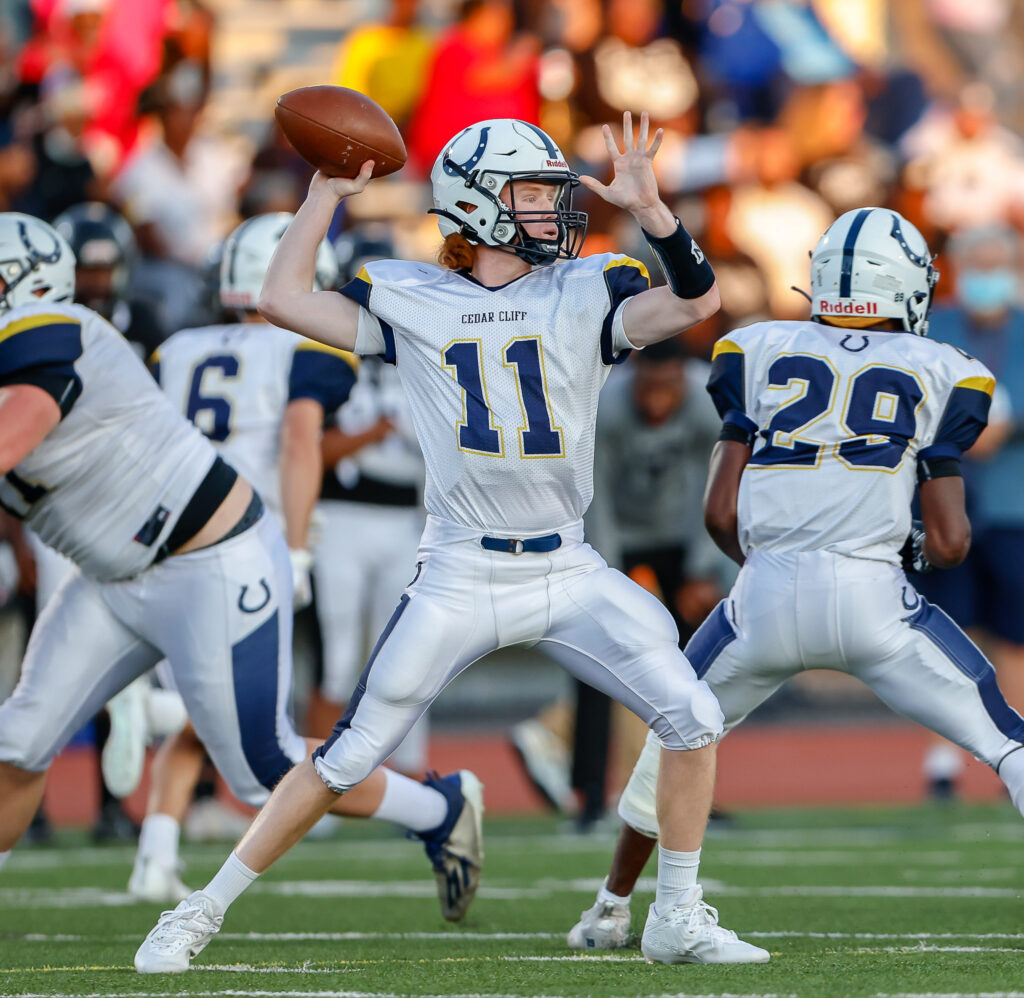 CEDAR CLIFF COLTS
Quarterback: This was a tough night for Ethan Dorrell. He had his way the first two games of the season, throwing for 500 yards and completing 77% of his passes. He looked good early, but after that he was harassed almost every time he dropped back. He completed only 8-of-19 passes for 66 yards. He struggled, but it was for a reason. Grade: C
Running Back: Senior Jontae Morris is the feature back, and despite missing last season with a torn ACL, it's clear he is a much better back now. He ripped off a 52-yard touchdown run, but his other 15 carries netted only 34 yards. He ran hard, but against CD East you have to hit the hole with more authority because of their speed. Grade: B
Wide Receivers: No. 1 target Trenten Smith made two nice pitch-and-catch receptions early on the first drive of the game but didn't register another catch until the game was sealed. He was erased after a good start. The Colts have a stable of receivers, and the eight completions went to five different guys. There was just no time for their QB to get them the rock. Grade: C+
Offensive Line: It's been pretty smooth sailing for this group until they ran into the aggressive speed and physical nature of a defensive front like the Panthers. I didn't think they had a bad night overall, but it was clear the CD East defensive line was having its way in terms of getting pressure on the quarterback. . Grade: C-
Defensive Line: When the opponent averages 6.3 yards per carry, you had a tough night. There were some big holes on the edges that allowed the speedy Panthers to get the edge. I did see decent pressure from the pass rush, though. And they did hang in there. KC Robinson had a good game overall. Grade: B-
Linebackers: The two guys in the middle, Ricardo Harmon III and Kellen Gombola each had good games. They made a ton of tackles and filled some gaps that at times looked wide open. The guys on the outside struggled to hold the edge and tackle in space. Mixed bag, but the inside duo was fantastic. Grade: B
Secondary: Too many missed tackles in the open field in run support, and they were fortunate that penalties on CD East saw three touchdowns through the air called back. The stats looked good in the end, only 98 yards allowed. But that's not a true indication of what went on. Grade: C-
Special Teams: Having that first drive of the game end with a blocked field goal was a tough pill to swallow. Pressure up the middle doomed the kick. Not much allowed in the return game, but both teams went with short kickoffs so getting anything in the return game was impossible. Less than 30 yards a punt isn't a good number, either. Grade: C-
CD EAST PANTHERS
Quarterback: There's a running element that Terrence Jackson-Copney brings to the table that is an added dimension for CD East. He has six quarters under his belt guiding this offense after taking over for starter Tony Powell, and he's looked comfortable and confident. Rushed for 134 yards and added 98 through the air. And don't forget he had three TD passes covering 124 yards called back for penalties. He's a legitimate dual-threat. Grade: B+
Running Back: Marcel McDaniels runs hard, and it makes sense why he breaks tackles the way he does. He also wrestles. That explains some of what you see on the football field. Showed durability by carrying 25 times for 120 yards. It was nice to see him get in the end zone.  Grade: A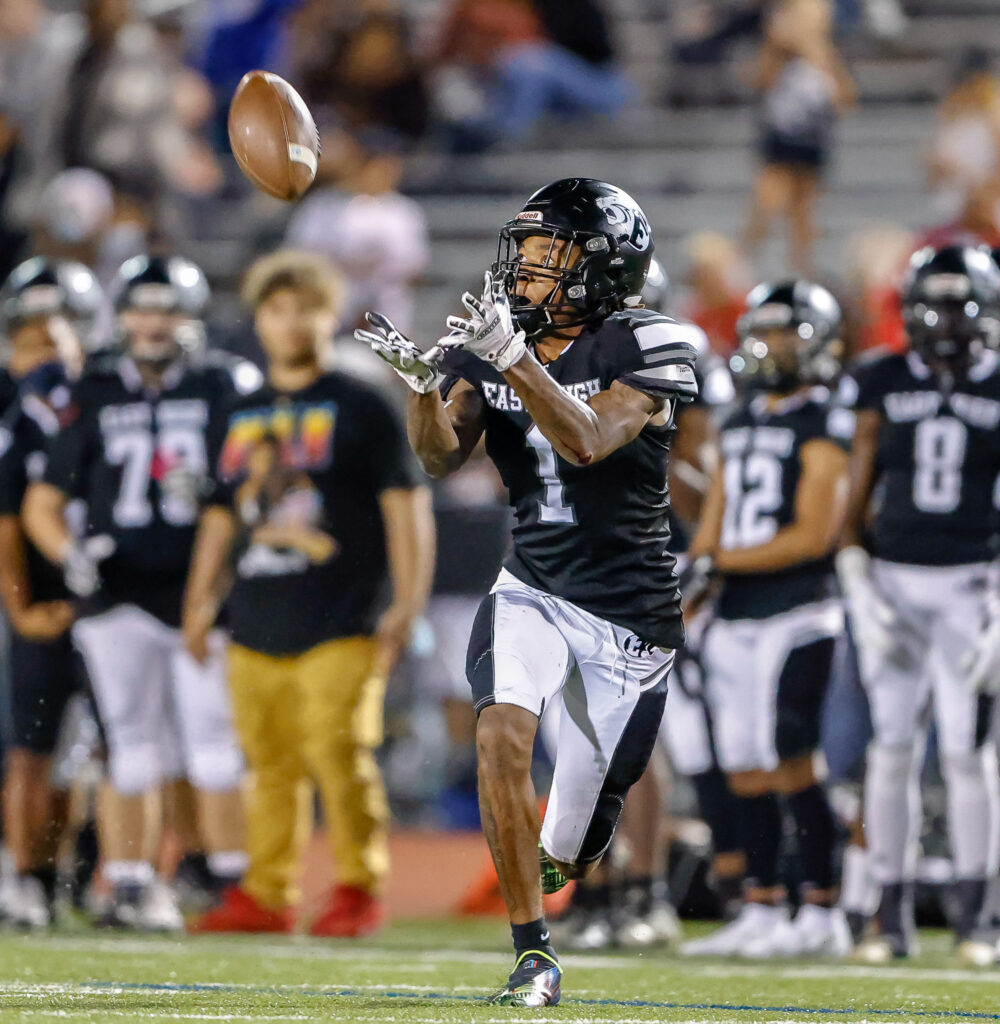 Wide Receivers: Everyone knows Mehki Flowers is a Penn State recruit, and he finished with six catches for 57 yards. He did have a drop, which you could tell it irritated him A LOT. He also was robbed of a touchdown where he caught the ball in the corner and DID get his foot down, but the officials ruled he was out. And he had another touchdown taken away for a terrible OPI call. He has a right to come back for the ball and go for the catch, too. Tymere Thornton is the other target, and he had two touchdown catches called back. The numbers say it was an average night, but some of those catches that didn't count were just sick. Grade: B+
Offensive Line: Really good night run blocking. They were physical and opened some holes that you could drive a truck through. They were physical at the point of attack and finished blocks. However … a holding foul and ineligible receiver downfield penalty cost the Panthers 14 points. At some point that will matter. Overall, they dominated in the run game and that was the game plan. Grade: B+
Defensive Line: Nader Shawakha and Cameron Livingston were a handful all night, and they were strong at the point of attack in the run game and caused all kinds of mayhem in terms of a pass rush. They owned this game. Grade: A
Linebackers: What makes the Panthers tick defensively is this group. They bring pressure from the inside and off the edge in tandem. Thaddeus Krebs handles the duties up the middle, and Jekari Rivera-Mauldin is wicked quick off the edge. I thought Rivera-Mauldin had a monster game. Nothing went outside, and he created mayhem coming off the edge. Grade: A
Secondary: No big plays and that was key after surrendering a handful the first couple games. They really didn't need to do much in terms of run support. The DL and LBs were taking care of that. Nobody home on the 52-yard run on the back side was a mistake but no big deal. The DPI when you grab the jersey of the receiver when the QB's arm was hit and the ball was a well-short wounded duck is undisciplined and sloppy. Grade: A-
Special Teams: Pretty darn good night, overall. Pair of field goals covering 28 and 30 yards from Nickolas Bloss. His first extra point was shaky, though. Kickoffs were all shorties designed to give up field position but avoid the big play. Flowers had only one chance in the return game, and he managed to scratch out 17 yards. No damage and a solid night from the kicker. Grade: B+