East Pennsboro needed its best player to come up big in a dog fight with York Suburban, and the running back delivered big-time.
Sy Burgos now owns the school record for rushing yards in a game after he torched YS for 366 yards and four touchdowns in a 42-21 victory where the Panthers trailed in the second quarter and the game was tied at halftime.
Three of Burgos' touchdowns were long-range gallops, covering 62 yards to go along with a pair of 72-yard house calls. He added a 22-yarder as well. Burgos surpassed the mark of current Temple Owl Onasis Neely's mark of 320 yards established in 2017.
Those long-range touchdown runs lit up the scoreboard, but for my money the most valuable work Burgos did was averaging 7.3 yards per carry on the 19 carries he didn't take it to the distance for points.
More from the ridiculous Week 1 performance category: we offer defending PIAA champion Steel-High sophomore QB Alex Erby and his 502 yards and eight touchdowns on 15 attempts. Nothing else to say, really.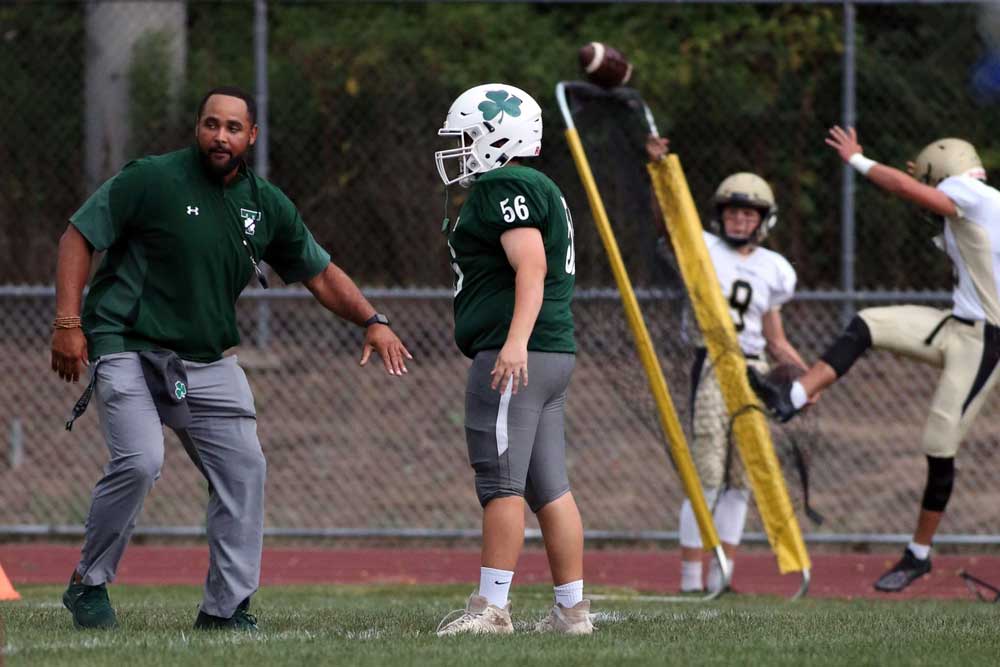 The jaw dropping score from the opening weekend scoreboard was Trinity 34, Delone Catholic 14. Congratulations to new head coach Jordan Hill — the former Steel-High Roller, Penn State Nittany Lion and NFL veteran — and his coaching staff. And hello, Trinity.
Pulling an upset is one thing, just wondering if you call it an upset when you roll a team by three scores? Running back Tyler Rossi killed the Squires with three touchdowns on only seven carries and finished with 174 yards. Holding Delone to a pair of touchdowns says the T-Rocks defense showed some bite.
Not a huge surprise La Salle College knocked off Bishop McDevitt. The Explorers are a tough-out program. You have to beat them.
Here's the kicker for me, though, and why this is a bad loss for the Crusaders. First, La Salle played without a pair of FBS recruits; and second, McDevitt's talent produced very little, including only 20 rushing yards and 12 penalties. For a team with high expectations, that won't win much at the next level. It's only one game, though.
Week 1 hard-luck result goes to Greencastle-Antrim after playing toe-to-toe with Chambersburg before falling 16-14. That result speaks volumes to me about where the Blue Devils are going this season.
Quick, when was the last time you saw a high school football game go into the final minute scoreless? Right, nobody can remember. It's so rare in the modern hurry-up, spread game. Credit to Shippensburg and Hershey's defenses for playing an old-school game at The Concrete Palace.
Greyhounds QB Tucker Chamberlin provided Shippensburg with a dramatic victory by scoring on a 5-yard scamper with 26 ticks remaining. So, would that be a buzzer-beater or a walk-off? Just wondering.
Cedar Cliff fell behind Red Lion by 21 points early and ended up winning by 21 points. That's not as easy as that math looks. Making his first start at quarterback for the Colts, Ethan Dorrell was 13-of-15 for 254 yards and three touchdowns. And he added 93 yards and a score on the ground. Helped to have RB Jontae Morris back after missing last season with a knee injury. First game back: 151 yards and a couple scores.
Red Land quarterback Roman Jensen threw for 362 yards and three touchdowns, completing 20-of-35 attempts with only one interception. And the Patriots lost to Northern 42-28. If your QB plays that well and you lose, that's a bad sign. Good for the Polar Bears.
I couldn't scream loud enough the last couple weeks that what Boiling Springs did in 2020 was not a fluke. You could see the Bubblers squad a year ago had really good football bones in terms of how it was structured and operated. I mean Bubblers 69, Littlestown 8. That score is not a fluke, either.
CD East showed some early bite by giving Manheim Township all it could handle on the road Saturday. The Blue took a 24-21 lead on a 26-yard field goal with only 96 seconds left. The Panthers marched down the field and had a crack at forcing OT with a 25-yard FG attempt on the last play in regulation. Snap, hold and kick is the execution plan. The kick never happened, though. The snap was bobbled.
First snapshot says the scoring issues Cumberland Valley battled in 2020 are still a problem as this season gets underway. The Eagles had only one touchdown in a 35-7 loss at Manheim Central. Losing by four touchdowns has to be a letdown.