We're taking a look around our coverage area to see who helped themselves this week and who did not as we move into Week No. 6 of the high school football season.  
STOCK UP
Shippensburg Greyhounds
At first glance this might seem like shooting fish in a barrell. How are the 5-0 Greyhounds on the rise? After watching high school football teams shape themselves for 30 years, I've come to the conclusion that really good teams go through a building process and when you can clearly see it and identify it, well that's when you have something special cooking.
Was it only a little over a month ago that Shippensburg beat a struggling Hershey team 7-0 on a touchdown in the dying minutes? That is the same Shippensburg team that just erased Waynesboro by three touchdowns. Looking at the schedule ahead, considering the state of the Crazy Colonial Division, you can see potential landmines dotted throughout the second half of the season – Mechanicsburg on deck, upstart West Perry, surging Northern.
All coming up for the Greyhounds. After what this club showed in Week 5, I would be shocked if Shippensburg finishes anything other than 10-0. They are building week-by-week, which is something easy to say but not easy to accomplish.
CD East Is A Commonwealth Contender
I'm sorry, but years of institutional knowledge is hard to shake. Am I the only one who keeps waiting for the other shoe to drop with the CD East Panthers? I've been waiting for a couple weeks and I'm done. I'm ready to throw the Panthers' hat in the ring as Commonwealth contenders.
The bones of this club under first-year head coach Lance Deane are built on defense, running the rock and being physical. And they are executing that plan. Those are some solid bones that are hard to break. I'm not saying this squad is the clear-cut favorite or anything. I just believe their voices will be heard. I mean you don't just take State College out behind the woodshed without a very good reason. That doesn't happen by accident. The defense is getting better.
CD East's offense has seen plenty of adversity already at the quarterback position and it was barely noticeable. The last five games might be a wee bit tougher than the first five, but this 4-1 squad is confident and comfortable with who they are and how they accomplish getting there.
Bishop McDevitt QB Stone Saunders
Normally there's plenty of buzz and fanfare around a young and promising quarterback at Bishop McDevitt. Through no fault of their own, the Crusaders' regular-season schedule is nothing short of brutal in terms of competition inside the Keystone Division. That's a fact, not an opinion. McD is five or six touchdowns better than every other team except Cedar Cliff.
That has allowed freshman Stone Saunders to quietly and efficiently establish himself as the QB1 for McDevitt. The 6-1, 185-pound Saunders has some talent at wideout to work with for sure. But how he goes about his part of the equation is just as important. He's completing 64 percent of his passes, averaging 190 yards a game, has 13 touchdowns passes with the all-important zero interceptions. And he's not playing much into the second half these days, either.
For a special talent like Saunders, having the cover of a schedule like this might at first glance seem problematic. I see it the other way and will serve his development well for when the real bullets start flying.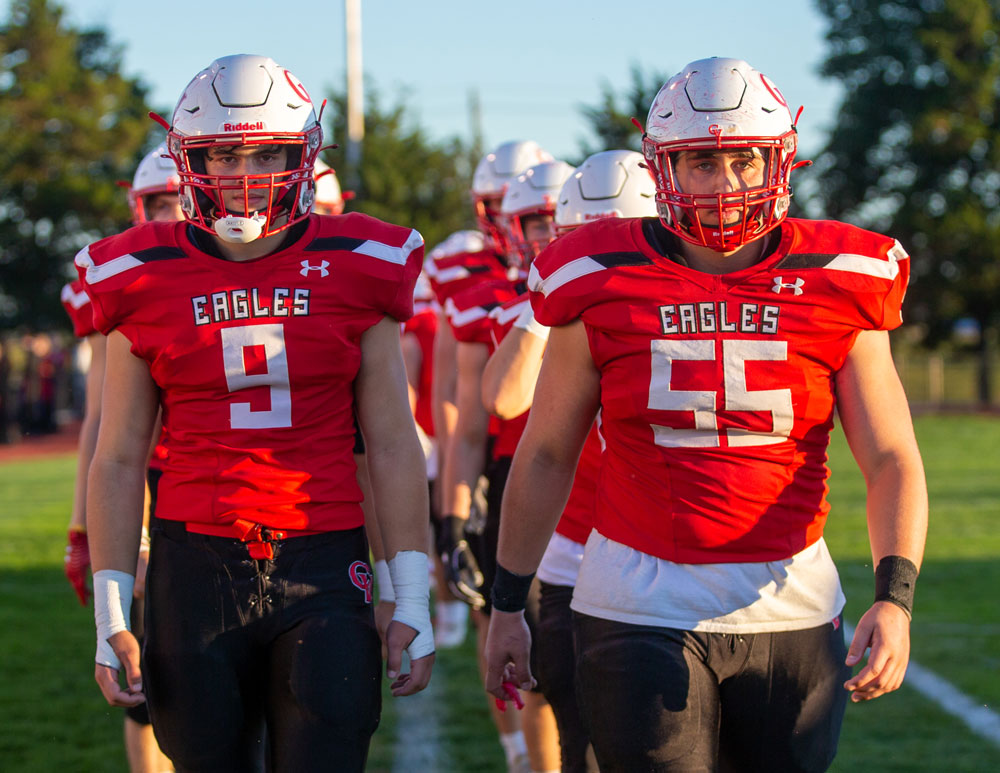 STOCK DOWN
Cumberland Valley in Black Pants?
I almost fell out of my chair in the corner of the press box at The Chap when after I heard the familiar "here come the Eagles", I saw Cumberland Valley hit the field in black pants. In case you didn't know, there was a tradition established by the late legendary head coach Tim Rimpfel that the Eagles only break out the black pants for certain postseason games. The really big ones. Michael Whitehead Jr. followed the same tradition when he took over as the head coach. Now I know current head coach Josh Oswalt is a CV alum and knows the drill with the black pants but is also carving out his own niche in New Kingstown.
Maybe the black pants were a one-night thing for the Altoona game as the community honored the passing of Rimpfel last week before the game. That's my hope. Coach Oswalt wasn't able to be on the sideline for this game, so I was not able to ask him about the black pants for a regular season Week 5 game. Maybe he made them part of the new look Eagles under his leadership. They are, after all, a very good look. And I have no problem with change. It's a good thing. But this one was such a steep tradition, I guess I needed a warning or something before having one of those traditions I adored jarred right in front of me. Either way, CV and black pants will always be a playoff thing in my mind.
Middletown struggles are real
With a regime change in Middletown, change from a championship mentality to a new-kid-on-the-block mentality was never going to go well. Particularly with the talent pool a little light compared to say the previous decade. The cupboard was a bit empty, and this was always going to be an uphill climb for the new regime. But losing to Juniata 8-7, full props to the Indians for making this a defensive slugfest without their best player, is a clear either launching point or breaking point for this squad. Middletown is now 2-2 overall and next up is the big-play machine and undefeated Steel-High Rollers.
Like I said, 2021 was always going to be an uphill climb. The mountain now is a lot higher.