Each week during the 2021 season we'll offer some news, notes, tidbits and opinions from each of the five divisions in the Mid-Penn Conference.
1. UD rebounds nicely on Homecoming Night
With junior Brady Morgan darting all over the place, Upper Dauphin erupted early and tacked on a third score late in its 22-14 triumph over Trinity. Morgan rushed 17 times for 202 yards and banked all three touchdowns as Kent Smelt's Trojans (2-1) rebounded from their 20-0 loss to Juniata by claiming the Mid-Penn crossover.
Although Morgan scored twice before the break to give UD a 16-0 advantage, Jordan Hill's Shamrocks (1-1) were able to pull within a deuce (16-14) in the second half. Morgan, though, was able to break off a 30-yard score with just less than 4:30 to go to put the contest away. Christian Snyder added 77 yards on 17 carries for Smeltz's Trojans, who rang up 350-plus rushing yards against their Mid-Penn Capital adversary. Morgan also caught two passes for 14 yards and swiped a Trinity pass attempt, returning it 8 yards.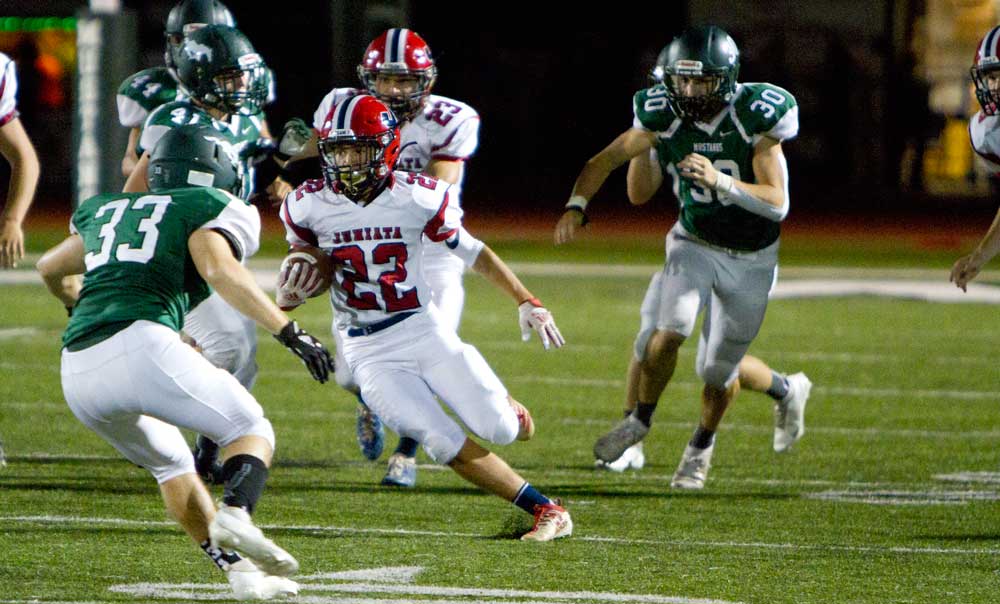 2. Breaks, breaks and more breaks
Although Juniata (2-1) zipped to a 14-0 lead at West Perry, the Mustangs collected 25 unanswered and walked off with a 25-14 victory. Compounding Juniata's issues was Kurt Condo's club watched senior quarterback Jacob Condo leave the game with a broken collarbone. The younger Condo limped off one week earlier with a lower leg injury, giving way to Aaron Kanagy before returning when Juniata unveiled its Victory formation at the tail end of a 20-0 whitewash of Upper Dauphin. … As if getting humbled 68-7 Saturday at Steel-High wasn't difficult enough to absorb, Newport quarterback Andrew Bates was forced to the sidelines by an apparent fractured wrist.
The Buffaloes (1-2) will try to halt their two-game skid when they visit Middletown (1-1) in yet another Mid-Penn crossover. … While Line Mountain (0-3) was showing signs of shucking its offensive struggles, Brandon Carson's Eagles will be idle this week since their Mid-Penn crossover at unbeaten Boiling Springs has been shelved. What hasn't changed since the opening week has been the Eagles' passionate play on the defensive side of the football. Sophomore linebacker Chandon Maurer and Beau Keim, his counterpart on the inside, combined to make 26 tackles in a 28-6 loss to Middletown. Keim also registered three tackles for loss and two sacks. Senior defensive end Wyatt Shaffer also played really well, totaling 13 stops, 3.5 tackles for loss and a pair of sacks.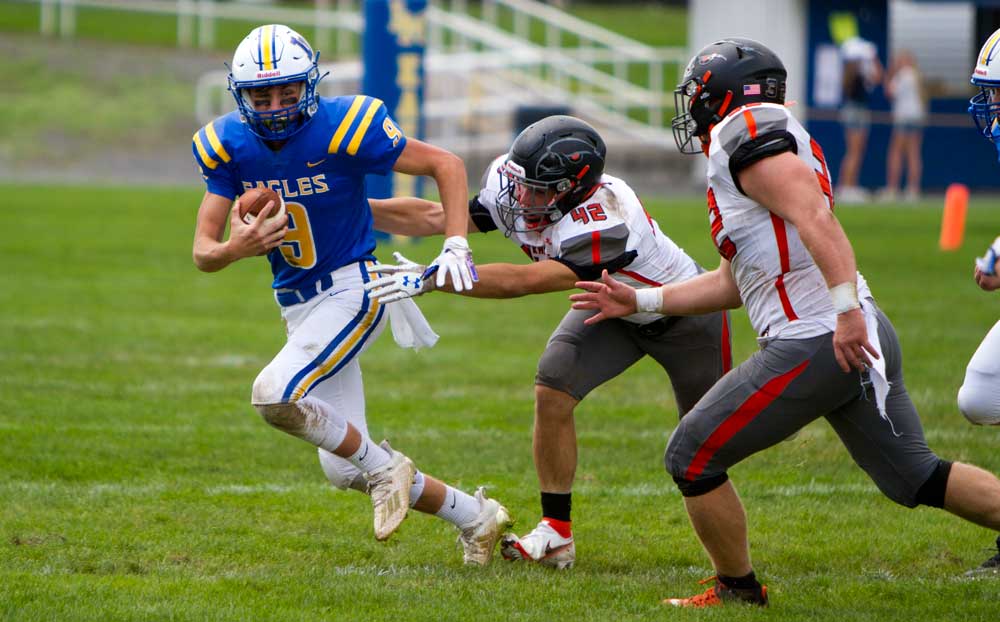 Susquenita looking to remain perfect
Still flashing huge grins following its come-from-behind 39-34 victory over Camp Hill, Susquenita will try to make it three in a tow when it visits Big Spring. Sophomore QB Derek Gibney was sensational in the Blackhawks' win, throwing for 163 yards (10-for-22, 2 touchdowns) and rushing for 108 more (11 carries, 2 scores).
Halifax looking to halt skid; JB welcomes Maryland side
Halifax (0-3) hopes to bring an end to its season-opening slide Friday night, when Earl Mosley's Wildcats take on Trinity (1-1) in a Mid-Penn crossover. Halifax picked up five more receptions in its 63-13 loss to Big Spring from sophomore wideout Peter Ranck. … James Buchanan (1-2) will try to get back in a winning frame of mind when Cliff Pine's Rockets host Baltimore's Green Street Academy. JB was thumped 53-8 by Boiling Springs. The Bubblers owned a 47-0 lead at halftime.