Rivalry games where there is a trophy on the line are as good as it gets in high school football. And the longer the tradition of that particular game continues, the more that game evolves into something iconic for both teams.
The Little Brown Jug officially reached retirement age this year when Shippensburg and Big Spring played the 65th version of the contest Friday night. It's simply the best "niche" rivalry game in Central Pennsylvania. There's a few others to choose from, but this Route 11 beauty wins going away in my book.
Shippensburg has dominated for the past decade, and that continued despite Big Spring bringing one of its more complete and talented teams to the table the last 10 years.
Of course, when the Greyhounds use a 6-foot-7, 260-pound, athletic FBS recruit to finish drives with touchdowns, it's really not a fair fight. Anthony Smith can impact a game in many ways, and in this one the defensive end and Minnesota verbal commit scored three touchdowns to steer Ship to 20-point victory over the Bulldogs.
Two of the biggest impact wins in my book for Week 2 — we do not subscribe to the PIAA Week 0 bologna here at Fourth Down — came Thursday night. Cedar Cliff went back-and-forth with Cocalico before Colts QB Ethan Dorrell capped off a monster game with a 6-yard TD strike to KC Robinson inside the final minute. Dorrell finished with 228 yard through the air with a trio of TD passes and tossed in a rushing TD for good measure. The Cliff has something cooking this season for sure.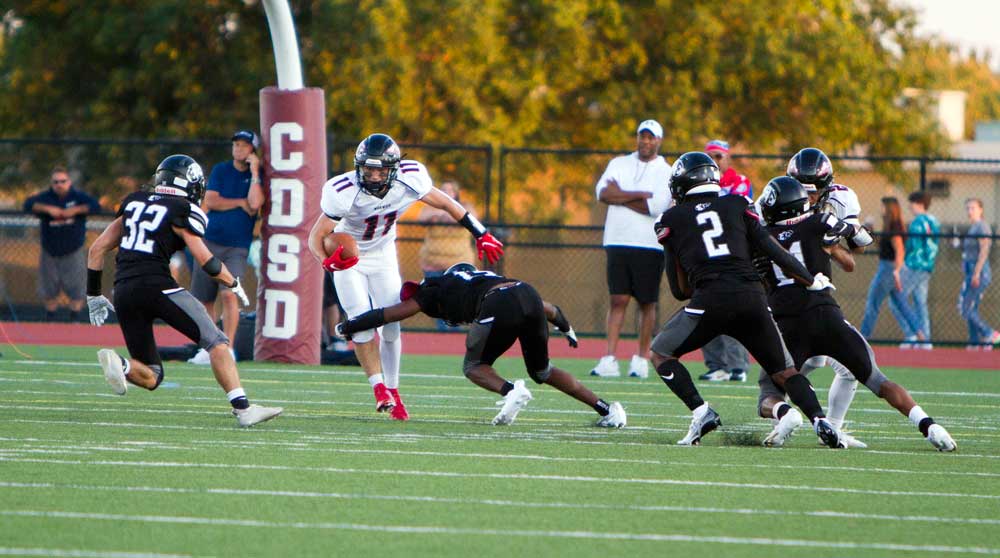 CD East registered the other impact victory Thursday evening. Outplayed decisively in the first half by Warwick, the Panthers managed to stay only seven points down. And that was the key. CD East's defense came alive in the second half after getting torched for nearly 300 yards prior to halftime and set the table for some late-game heroics. You can get the details in my recap from The Speedway
Related: Making the Grade analysis of each position group's performance in CD East's victory against Warwick
I'm still massively confused why Perry County mates West Perry and Newport hadn't played for 25 years until this weekend. These two clubs should play annually, start a rivalry game and come up with a cool name for it. Led by four total touchdowns and 300-plus yards of offense from QB Marcus Quaker, the Mustangs crushed the Buffs 49-0. Still a huge proponent of this being an annual affair.
If you are surprised by the final score from Harrisburg's 31-21 victory over Hazleton — thinking the Cougars should have won this one going away — you aren't paying attention. This Harrisburg team is built differently than those lethal, quick-strike offenses Cougars fans have become accustomed to. This squad is more about ball-control, grinding and opportunistic defense. Outstanding road win in my book coming off that monster upset triumph last week. This was validation.
No surprise Bishop McDevitt found the end zone a bunch of times against Middletown after getting blanked in its opener. The 55-7 demolition of the overmatched Blue Raiders was expected. This was a milestone victory, too — the 600th win in program history for McDevitt.
Nice rebound for Central Dauphin at home. The Rams were in a dog fight with Berks Catholic midway through the second quarter, trailing the Saints 14-7 before ripping off 21 unanswered points to snare a two-score lead early in the final quarter. The fuse for the offense was lit by a gutsy fake punt in the second quarter. Rams are 1-1 and finding their way.
Dion Bryant had five touchdowns for Milton Hershey to get the Spartans their first win in 2021. And it was a convincing 52-14 win over Susquehanna Township. It's going to be a long season on Elmerton Avenue for The Tribe.
My Week 2 best all-around performance goes to Camp Hill fullback/linebacker Kobe Moore. He had 89 rushing yards on five carries, including a 54-yard TD rumble, forced a fumble, recovered a fumble, registered a sack and had seven tackles in the Lions' blowout of Biglerville.
Rotten COVID-19 robbed everyone of the intriguing Trinity vs. York Catholic matchup this week. It's going to happen this season from time-to-time. The game has not been rescheduled.
Best performance in a losing cause goes to Halifax quarterback Carson Enders, who threw for 333 yards and four touchdowns in a game where the Wildcats scored 39 but still fell to James Buchanan.
Is Carlisle ready to be a player on a bigger stage this season? The Thundering Herd are 2-0 after blanking a Hershey team that hasn't scored a point in eight quarters. Wins over Mechanicsburg and Hershey are nice and build confidence. I'm still on the fence with this club. They do have some weapons, and Louis Shank at QB makes all the pieces fit together to create more potential pop on offense. The Thundering Herd are intriguing.
Boiling Springs 35, Bermudian Springs 0. That's about right. The Bubblers are blossoming into a handful in 2021.
Mechanicsburg's defense again gave them a shot to win, and the Wildcats special teams delivered the goods with a 79-yard return of a blocked field goal in the fourth quarter by Rashawan Early-Holton for the only touchdown in regulation to force overtime against Elizabethtown. Of course, the Mechanicsburg defense held in extra time to give the Cats a 14-7 triumph. The offense is still a hot mess in terms of productivity, but this defense is off to a torrid start.
Steel-High announced that Saturday's win against Belmont Charter, a game that was a runaway right from the opening kick off, was victory number 800. Congrats, gents!