Fun fact from CD East's come-from-behind 28-21 victory over Warwick at The Speedway Thursday night: the last time Warwick lost a football game was October of 2019. That was also the last time CD East won a football game.
That comes courtesy of Panthers new skipper Lance Deane.
In the fourth quarter with the game on the line, CD East found a way to get its first win of the season with 14 fourth-quarter points. Warwick had this game in what felt like a comfortable place everywhere but on the scoreboard. And in the end, not getting more out of its first-half domination proved to be the Warriors downfall.
Time to hand out some grades.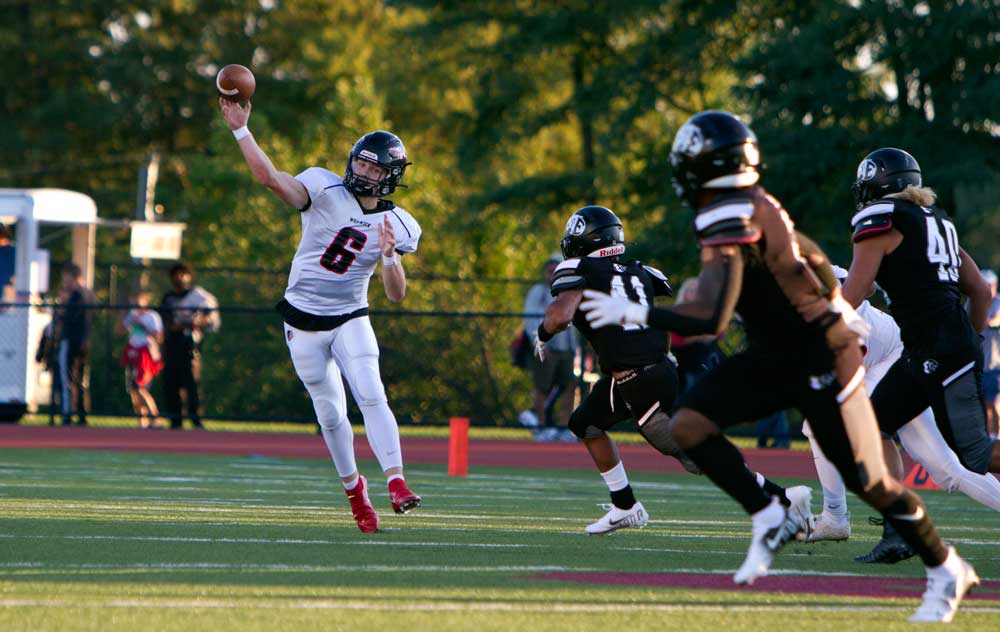 WARWICK WARRIORS
Quarterback: Junior Jack Reed is already pretty good and is only going to get better, although he didn't finish this one, missing the final series after coming up gimpy. He was decisive where to go with the ball and has wonderful touch on his deep throws — that 84-yard strike to Ryan Fink was a next level throw. He had 220 yards at halftime but finished with only 261. He's the meal ticket to wins. The pick-6 was a tipped pass and not an errant throw or bad decision. Grade: A-
Running Back: Christian Royer is a horse, and the Warriors coaching staff treated him like one with 25 carries. He managed only 63 yards from that many totes with only one touchdown. To be fair, there wasn't much room to roam. Grade: B
Wide Receivers: It's pretty clear Cooper Eckert is the go-to guy in this offense through the air. But he had only five grabs for 43 yards and managed just one catch after halftime. Fink is a solid No. 2 option, and they have another couple options. I didn't see a single drop. Grade: B+
Offensive Line: Leading by only one touchdown at halftime, the Warriors went conservative and attempted to ride their running game to victory. That means the offensive line has to be winning the battle up front. It was losing some, and at best it was a level playing field. They struggled at times with the pressure and speed of the Panthers. Grade: C+
Defensive Line: This group was solid but not overwhelming. The real heat on this defense comes at the linebacker position. They did do an outstanding job all night getting heat on the quarterbacks. Grade: B
Linebackers: Aaron Hess is rock solid in the middle, and he had a good game. But the real pressure came from the outside guys, Royer and Andrew McClune. They are quick and tackle extremely well. Grade: A
Secondary: I thought Tanner Welk held his own for getting the call to cover Mehki Flowers in single coverage. He did have one pass interference call that was key, but hey, its going to happen. Run support was good. Grade: B+
Special Teams: The onside kick in the first half was a great call, and it was perfectly executed by kicker Gage Meckley. He rolled it along the ground and recovered it. Most kickoffs were pooch kicks, so the return game was eliminated. Overall kicking game was solid. Grade: A-

CD EAST PANTHERS
Quarterback: Starter Tony Powell went down with an ankle injury on the first series of the second half, and it appeared the Panthers were in deep trouble. Powell didn't show much in the passing game, but that 49-yard scramble and run for a TD was magic. His backup, Terrence Jackson Copney,  had no problem stepping in, and the moment wasn't too big for him. Guided the Panthers to a come-from-behind win with 14 fourth-quarter points by throwing a TD pass and rushing for a score. Still some work to be done in the passing game, though. Grade: B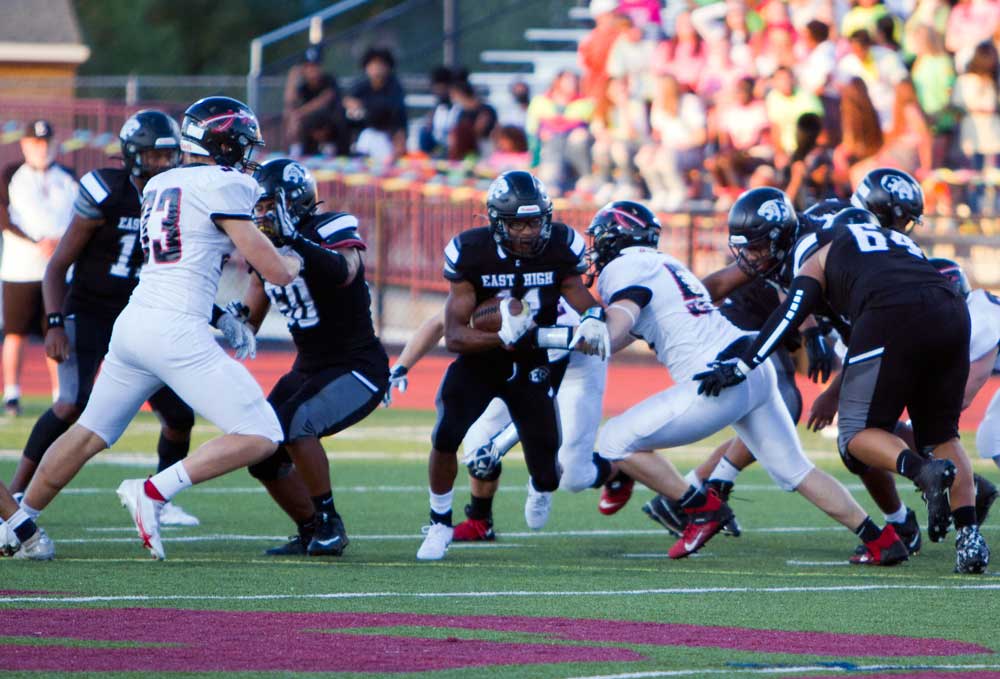 Running Back: Marcel McDaniels is sneaky. He's 5-foot-8 and maybe weighs 160 pounds, but he breaks tackles at the point of attack at times and runs hard. And he has some speed in the open field, too. Led all rushers with 74 yards and averaged 5.7 yards per carry. Grade: B
Wide Receivers: That circus falling-to-the-ground catch by Tymere Thornton was special. Only two catches, but 77 yards. He did have a drop. And Mehki Flowers is a Penn State recruit for a reason. He's simply a playmaker. Just get the ball in his hands. Yeah, we saw that block on Powell's 49-yard TD scamper, too. Grade: A-
Offensive Line: This group was having just an OK night all around until the fourth quarter. They struggled in pass protection a lot, and there were too many snaps over the quarterback's head. In the fourth quarter, though, they were opening up lanes and holes in the run game and gave Jackson-Copney the time he needed. Grade: C+
Defensive Line: At 300-plus pounds Macario Clark is a lot of human to move around, but it was the few times he flashed for a big guy and made tackles when the back was by him that stood out. Solid push all night in the run game overall. Grade: A-
Linebackers: The Panthers have them some linebackers who are active, aggressive and fast as all get out when given a straight line to the quarterback. Junior Thaddeus Krebs is a star in the making. He's only 150 pounds, but he hits like a truck and tackles extremely well. He was everywhere. McDaniels off the edge is going to give teams problems. Grade: A
Secondary: Senior Tyrell Ford got beat on that 84-yard catch-and-run, but he recovered. He tailed Eckert all game and limited him to five grabs on 10 or 11 targets. Flowers almost had an interception because he's a ball hawk, but his run support really stood out.. Grade: B+
Special Teams: Got caught running away from the ball on that onsides kick, and that's a big-time no-no up front. Flowers finally got his hands on a punt and nearly took it to the house. It was a clutch 39-yard return at a critical time in the game. Every punt looked like it was going to get blocked, so props to Izayah Hitchcock for getting them off. A mixed bag overall. Grade: C+