As shaky and less-than-impressive as Central Dauphin was offensively the first eight quarters of the season, the Rams have come off a two-week COVID-19 shutdown and are lighting it up. This offense is going to present some serious problems — mostly because of its balance.
Senior quarterback Max Mosey is pulling the strings and playing at a very high level. What is going to be problematic is he's spreading the ball around in the pass game, picking his spots in the run game and the Rams' power ground attack behind that offensive line is always available.
Central Dauphin has now scored 92 points since its pause, rolling up 42 on the road at State College Friday night. Mosey accounted for five touchdowns, three passing and two rushing, to stake CD to leads of 22-0 after one quarter and 28-7 at intermission.
All three of Mosey's touchdown passes came in the first quarter as he found three different receivers in the end zone. There's real danger in a passing game with multiple options.
Sticking with the Central Dauphin School District, because both schools are crafting strong squads, CD East was pushed by Cumberland Valley and rode its defense to a not-at-all-surprising 17-10 victory where points were not easy to come by.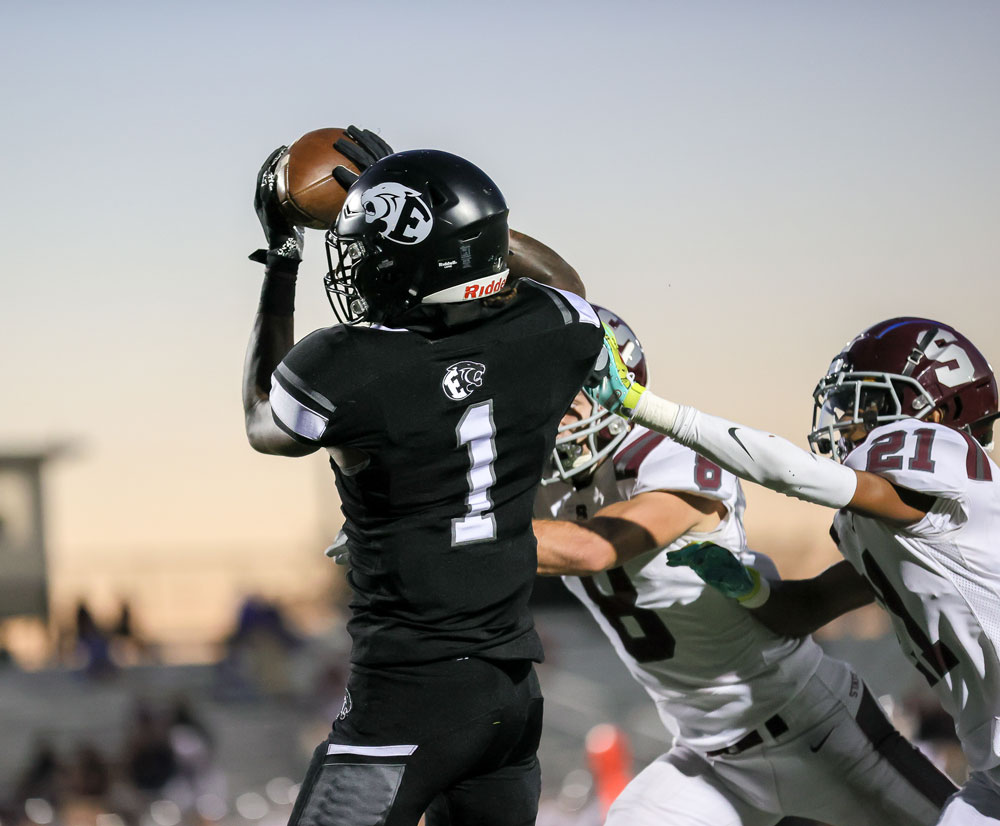 Penn State recruit Mehki Flowers continues to somewhat quietly be a massive two-way star for the Panthers, who won their fifth straight. He hauled in a touchdown pass and came up with a clutch interception. In terms of two-way football, nobody in the conference is playing at a higher level than Flowers.
The fight CV put up speaks to the progress the Eagles are making under second-year skipper Josh Oswalt. When you win a 17-10 game you need defense and a horse to ride at running back, and East RB Marcel McDaniels answered the bell with 30 carries and a tough 136 yards.
Big win for the Carlisle Thundering Herd on many fronts. After starting 3-0, Carlisle had dropped two straight and was the favorite and clearly the better team against Chambersburg. And the Herd proved it, racing to a 24-7 halftime lead and claiming a four-score victory. The mix-and-match offense of multiple weapons was simply too much for the Trojans.
Harrisburg needed a strong second half to pull away from Altoona on the road, the Cougars' fourth long-range road trip this season. When the defense pitches a shutout, the offense can sputter for a spell and not have any worries. Mahki Hopkins and Kyle Williams Jr. each had two scores for the Cougars, who are 5-1 with their only setback coming at the hands of No. 1-ranked Governor Mifflin.
It's clear everyone is looking up at Shippensburg in the Colonial Division. The Greyhounds are the class of the bunch this season, and the gap gets a wee bit wider with each passing week.
Ship used a splendid outing from quarterback Tucker Chamberlin, and some stingy defense, to overwhelm Mechanicsburg by three scores. Chamberlin threw for 227 yards and three touchdowns, rushed for another score and was a tidy 12-for-15.
Northern bottled up West Perry defensively, and QB Timothy Bonin threw for 200 yards and three scores in a comfortable win for the Polar Bears. East Pennsboro needed a pair of Sy Burgos fourth-quarter touchdowns to get the Panthers past winless Susquehanna Township. Late-game wins are an East Pennsboro speciality this season.
Don't look now, but Palmyra has won three in a row after surviving a shootout with Red Land where the teams combined for 88 points. Nice bounce back win for Milton Hershey thanks to RB Dion Bryant's four touchdowns. Injury forced Bryant to play quarterback for the second straight contest, and he responded with a pair of TD passes to go along with two rushing scores. Is there anybody that does more for one team than Bryant? I know McDevitt has stars, but in terms of Keystone MVP, my vote would go to Bryant.
Speaking of Bishop McDevitt, it was another night of offensive fireworks in a 66-7 win over Lower Dauphin. WR Mario Easterly had 120 receiving yards and two scores on only four catches. RB Marquese Williams had only five carries, scored on four of them and eclipsed 100 yards. And freshman QB Stone Saunders threw four TD passes. Crusaders have scored 55 or more points in four straight games.
In case you haven't noticed, Cedar Cliff has surrendered 21 or fewer points in each of its last three games. Just making note of the Colts' defense as a public service reminder. And RB Jontae Morris has become the show pony of this offense with another 150-plus yard outing with three touchdowns.
Trinity took a 7-3 lead over Boiling Springs midway through the first quarter of an intriguing Capital Division battle. And the rest of the points, 40 of them, belonged to the Bubblers. Boiling Springs piled up nearly 400 yards on the ground, led by 183 and three scores from Jack Laing.
Big Spring continues to chug away, and the Bulldogs are a you-better-be-paying-attention-to-them 5-1 overall with an offense that gets theirs pretty much each and every week. In the 35-point win over Camp Hill, QB Ethan Eisenberg threw for 218 yards on only eight completions with three touchdowns covering 90, 64 and 16 yards.