We're taking a look around our coverage area to see who helped themselves this week and who did not as we move into Week No. 4 of the high school football season.
STOCK UP
CD East exceeding expectations:
You have to like where CD East is at right now and where these Panthers, under first-year head coach Lance Deane, are headed. Three quality opponents to start the season — Manheim Township, Warwick and Cedar Cliff — and a 2-1 record from those three is exceeding expectations. They are more physical than you think and rely on line play to fire the engines instead of being skill-position focused. The 12 penalties for 131 yards in the win over Cedar Cliff will require some course correction moving forward. Can't do that in big games down the line and expect positive results. The bonus in this start is they now know they have two options at quarterback, Tony Powell and Terrence Jackson-Copney.
Bubblers aim to keep rolling behind high-powered offense
When you think of Boiling Springs you don't think of the Bubblers as a 50-points-a-game squad. Steel-High scoring 50-plus a game is no surprise. The Bubblers hitting for 50-plus a night on average so far is a mild surprise. Maybe? This team is a beast up front, has weapons they know how to use and is comfortable in its own skin. Boiling Springs has scored 157 points to date in 2021. And don't expect it to slow down with Line Mountain on deck. Remember that taste of the postseason this club enjoyed in 2020? They are playing like that taste isn't nearly good enough this year.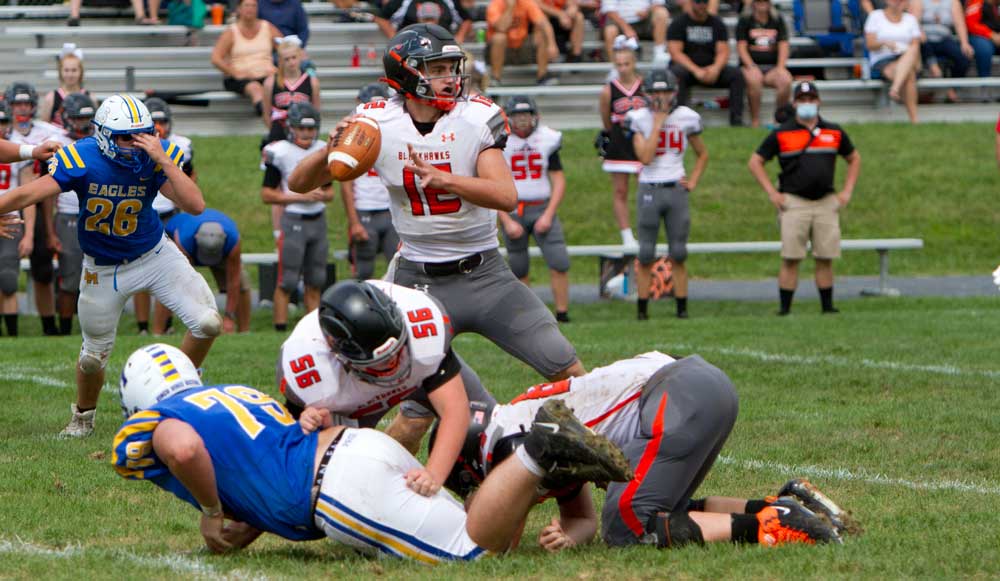 'Nita's Week 3 performance sends a statement: 
Susquenita is 2-0 after shutting down Line Mountain in its opener and going up-and-down the field with Camp Hill before coming away with a 39-34 victory. Not sure 'Nita was viewed as having much of a chance in either game. Beating Camp Hill in a track meet is a statement win. Big Spring is on deck this week, followed by Boiling Springs. That duo from Cumberland County will provide a different kind of complete test. Hey, the Hawks winning in convincing fashion out of the gate is the biggest surprise so far in 2021 in my book.
STOCK DOWN
COVID causing havoc, lost opportunity in the Mid-Penn: 
Central Dauphin and Bishop McDevitt battling COVID-19 inside their squads and being forced to cancel games is a part of the world we live in today with this pandemic. It's going to happen. What is the real bummer is WHO the Rams and Crusaders didn't get to play. Central Dauphin was slated to play Manheim Township and McDevitt was going to renew acquaintances with former Market Street resident Harrisburg. Those are quality opponents, and losing those games puts each club at a competitive disadvantage going forward. It's especially troubling for Bishop McDevitt because its division schedule is lacking in quality competition.
… especially among the Cougars:
Harrisburg is getting kicked in the teeth by COVID-19, and yet the Cougars aren't the problem. It's the Cougars' opponents. Last week it was McDevitt who had to cancel the game. Head coach Cal Everett went out and found a game with Manheim Township and pulled out a stellar overtime victory over the Blue Streaks on less than 36 hours notice. Now this week Harrisburg's game with Central Dauphin is already canceled. Everett is looking for a game, any game, but the pickings are bound to be slim. It's starting to feel like 2020 again in some respects. Harrisburg has lost games to McD and CD in back-to-back weeks. That's brutal.
Keystone Division clubs falling behind
The Mid-Penn Keystone Division had a rough Week 3, and overall this group of teams is struggling in 2021. Only Lower Dauphin and Palmyra picked up wins. The Falcons picked up their first under new head coach Josh Borreli against Elizabethtown while Palmyra handed West York a Monday evening setback, 23-13. Overall, this division collectively owns a 6-16 record entering division play the rest of the way.