Five-star performance
In this section, we'll feature one former Mid-Penn player who had a particularly impressive week in college football.
It wasn't the outcome he was surely looking for, but Zack Kuntz continued to impress Saturday in Old Dominion's loss.
The tight end formerly from Camp Hill and Penn State scored his first career NCAA touchdown Saturday in a 45-17 loss to Liberty. The defeat dropped ODU to 1-2 this season.
Kuntz entered the 2021 campaign with just three receptions and 26 yards in three seasons in Happy Valley. He eclipsed those numbers in Week 3 alone, going for 60 yards on four grabs. And he added a tackle, his second this season. His TD came from 30 yards out on a strike from D.J. Mack Jr. with 42 seconds left in the first half. It cut the deficit to 28-17 following a 12-play, 75-yard drive.
Since transferring, Kuntz is now at 10 receptions for 140 stripes through three games.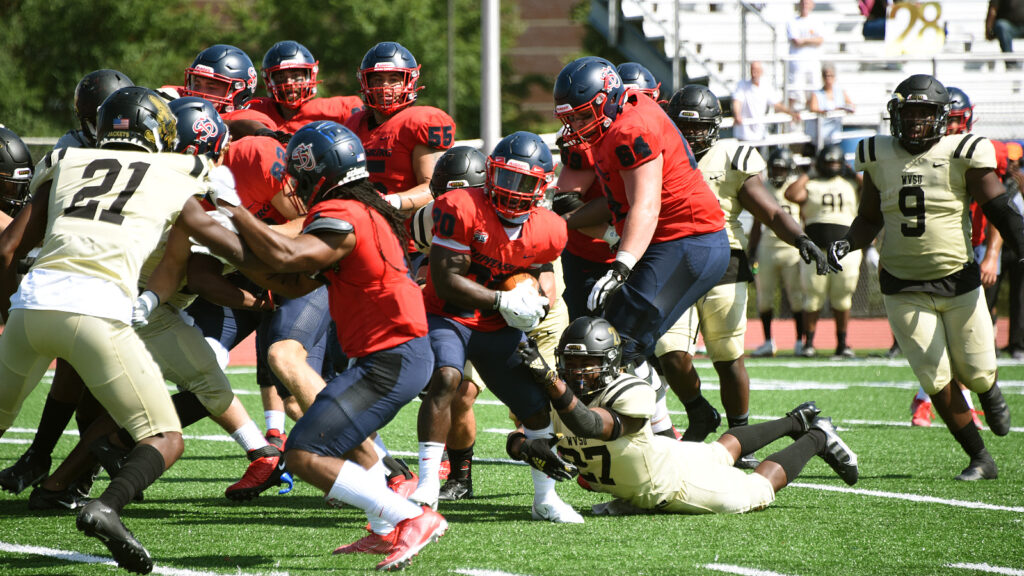 Closer look
In this section, we look at some of the former Mid-Penn standouts that had big weeks a little closer to home.
Camp Hill grad Bill Williams scored a late touchdown and finished with 65 yards on 12 carries (plus a 31-yard kick return) in Shippensburg University's 62-33 blowout win over Clarion to improve to 3-0. Lower Dauphin's Evan Morrill caught an 11-yard pass in the win, and Middletown's Laron Woody finished with three tackles for the SU defense.
In on the action
In this section, we'll list off some of the performances from former Mid-Penn players now in the college ranks
• William & Mary's Kane Everson (Harrisburg) had a tackle in a 27-7 win over winless Colgate, whose QB, Cedar Cliff product Grant Breneman, was 9-of-16 for 74 yards and was sacked four times. Breneman also had 33 total rushing yards.
• Rhode Island's Christian Arrington (Cumberland Valley) had four tackles in a 45-24 win over Brown to improve to 3-0.
• Texas A&M's Andre White (Harrisburg) had three tackles in the Aggies' 34-0 win over New Mexico to improve to 3-0. 
• Forrest Rhyne (Waynesboro) tied for Villanova's team lead with eight tackles in a 34-27 win over Richmond. The Wildcats are now 3-0.
• IUP Raunya Mitchell (Susquehanna Township) had a tackle in a 37-21 loss to No. 11 (Division II) Shepherd.
• Cedar Cliff grad Jaheim Morris led Millersville with four carries and 23 yards, but the team lost to California (Pa.) 30-0 to fall to 1-2.