Five-star performance
In this section, we'll feature one former Mid-Penn player who had a particularly impressive week in college football.
Former Camp Hill running back Bill Williams had his best collegiate performance with Shippensburg University Saturday.
The pinball of a runner scored twice in 22 carries and finished with 89 yards, leading the Red Raiders in all three rushing categories. SU beat Edinboro 30-9 in part because of the veteran. It topped last week's 15-carry, 64-yard performance.
Williams was not the only Mid-Penn alumnus to perform in Ship's second victory of the season. Lower Dauphin grad Evan Morrill caught a season-high five balls for 52 yards from QB Brycen Mussina, who finished 20-of-28 for 257 yards and two TDs.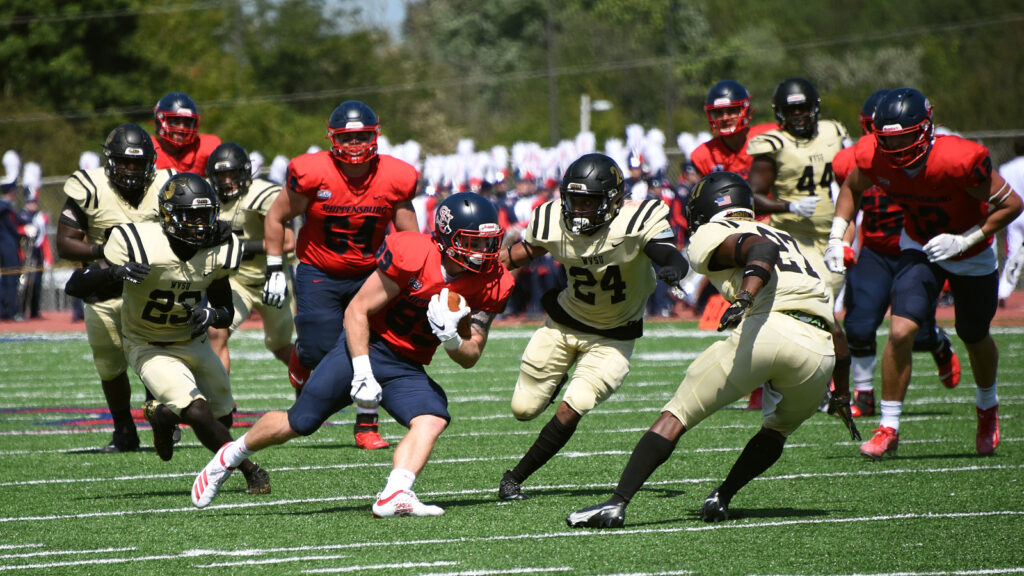 Former Altoona defender Josh Russo finished third on the team with four tackles and 1.5 TFLs, while his former Little Lions teammate Tyler Pettuci added another tackle. And Middletown's Tyler Woody and Ship High's Cameron Tinner had two and one tackle, respectively.
Closer look
In this section, we look at some of the former Mid-Penn standouts that had big weeks a little closer to home.
• Defensive lineman Raunya Mitchell (Susquehanna Township) had four tackles and picked off a pass that he returned 26 yards for a score in IUP's season-opening 29-26 win over Kutztown. The PSAC didn't play last season, but Mitchell has 48 career tackles, five sacks and a forced fumble as he begins his third season with the Crimson Hawks.
• Adam Houser (Shippensburg High) had three carries for 3 yards. Carlisle grad Kurtis Ravenel Jr. had a pair of kick returns for 30 total yards for KU.
In on the action
In this section, we'll list off some of the performances from former Mid-Penn players now in the college ranks
• Redshirt-sophomore Christian Arrington (Cumberland Valley) recorded his first sack of his career in Rhode Island's 16-14 win at Albany to move to 2-0. The linebacker finished second on the team with seven tackles, including a TFL.
• Grant Breneman (Cedar Cliff) was 12-of-24 for 142 yards in Colgate's 24-3 loss to Stonybrook. Breneman was sacked four times and picked off twice but led the team with 22 rushing yards on 13 attempts. 
• Penn State moved to 2-0 with a 44-13 beatdown of Ball State and linebacker Charlie Katshir (Cumberland Valley) recorded his first three tackles of the season. 
• Linebacker Andrew White (Harrisburg) had his first sack of the season and finished with three tackles as Texas A&M beat Colorado 10-7 to advance to 2-0.
• Linebacker Forrest Rhyne (Waynesboro) had a pair of tackles in Villanova's 55-3 thumping of Bucknell.
• Damion Barber (Harrisburg) had two more tackles, bringing him to six this season, but Austin Peay was walloped by No. 20 Ole Miss 54-17.
• Zack Kuntz (Camp Hill) had his best game of the young season, just his second with new team Old Dominion after a few seasons at Penn State, with a team-high three receptions and 61 yards from his tight end position. The Monarchs beat Hampton 47-7 for their first win of the season after rushing for a program-record 358 yards.
• Defensive tackle A.J. Perez (Central Dauphin, Temple University) had three tackles in West Chester's 56-10 win over Mercyhurst. Harrisburg grad and QB Yahmir Wilkerson rushed twice for nine yards and had an incompletion.
• Former Cedar Cliff RB Jaheim Morris scored on a 1-yard rush in Millersville's 21-17 victory over Clarion, the Marauders' first win of the season.