THE RESULT
Carlisle used its backup quarterback and a monster special teams play to hold off a second-half rally by Mechanicsburg to record a somewhat sloppy but well earned 27-14 victory to open the 2021 season Friday night at John H. Frederick Field inside Soldiers & Sailors Memorial Park.
KEYS TO VICTORY
Special teams was the difference-maker on the scoreboard. Carlisle built a 19-0 cushion early in the third quarter and appeared to have a strong upper hand. Give the Wildcats credit for punching back and clawing to within 19-14 with 10:02 to play. On the ensuing kickoff after Mechanicsburg made it a one-score game, though, Kareem Lawson found an empty lane up the middle, cut outside and was gone. His 82-yard kickoff return put this one out of reach.
Both squads wanted to run the ball but couldn't for the most part. Each defense was miles ahead of the offense and simply slammed the door any attempts to move the ball on the ground. Carlisle found its quarterback for this season in junior Louis Shank, who threw a trio of touchdown passes. Mechanicsburg didn't complete its first pass to a teammate — Carlisle had three interceptions — until 2:15 remained in the game.
INSIDE THE NUMBERS
The Wildcats and Thundering Herd each had 11 penalties for a combined 183 yards. … Mechanicsburg had 30 total yards, all on the ground, in the first half on 17 carries. Six of those rushes went for negative yards. … Carlisle wide receiver Josh Zipperer averaged 28.7 yards per catch on three grabs. … Shank, who didn't expect to play, was 4-of-5 for 98 yards with a pair of touchdowns in the first half. … Mechanicsburg sophomore QB Jeffrey Lougee led all rushers with 107 yards on 11 carries, including a 67-yard TD scamper.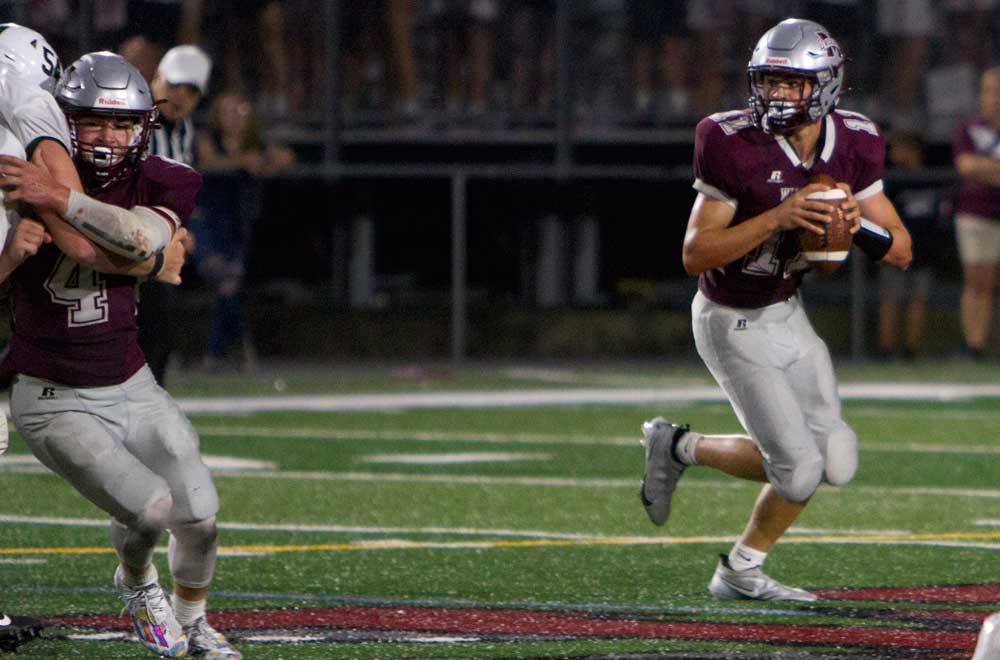 WHAT WE SAW
The only reason Mechanicsburg continued to hang around in this game was because of its defense, led by LB Sam DeLuca, DL Sam Geraty and DL Marlon Aristy. That trio was splendid and gave the Wildcats a shot.
Carlisle could have easily had this game put away by halftime. Twice in the opening 24 minutes they traveled inside the Wildcats' 10-yard-line and came away with zero points.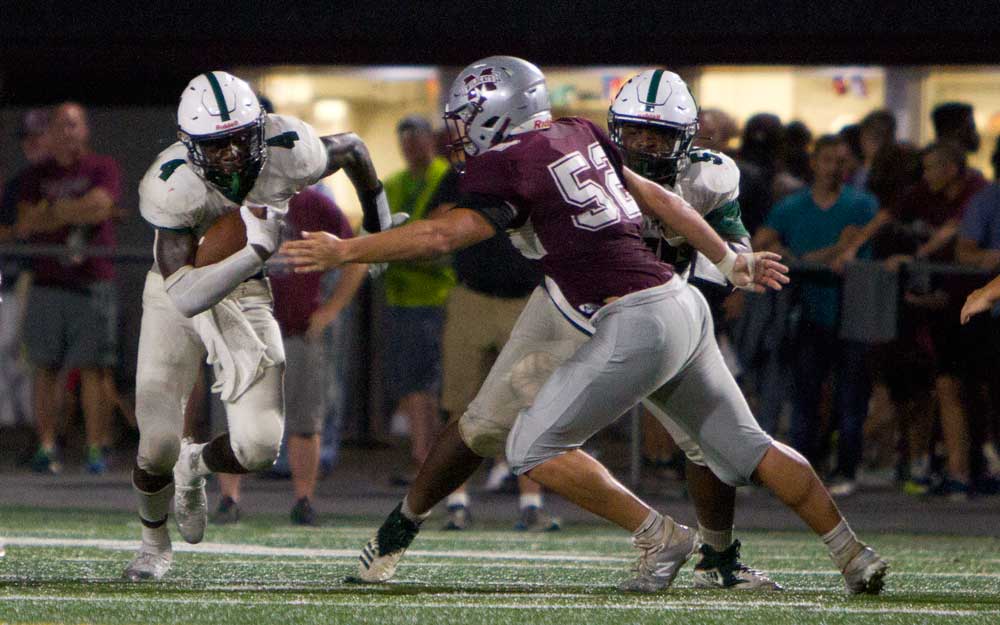 Offensively, what stood out was Shank is the best option at quarterback for the Thundering Herd, and that allows the versatile Ezeekai Thomas to line up at the running back position. When Thomas is at quarterback the offense is too easy to defend.
Finally, the Wildcats' offensive line is already better than you might think. And this group is only going to get better. Fundamentally they are solid and will only get better with more game reps.
THEY SAID IT
"I did not expect to play tonight. I've been running a lot at practice, but honestly I was surprised to hear me get the call that early. My first couple plays I was out there shaking, I'm not going to lie. The pace was so fast, it was fun, but it's much more aggressive and fast. Completing a couple early passes really helped me settle in." — Carlisle junior quarterback Louis Shank
"I thought we played well defensively for the most part. Guys made some plays, but yeah, defensively overall I saw a lot of things I liked. We have to work on special teams, and that's something we can fix. We did drop some passes and that didn't help our quarterbacks, but overall we just were not in sync offensively." — Mechanicsburg coach Anthony Rose
THUNDERING HERD 27, WILDCATS 14
Carlisle 0 13 6 8 – 27
Mechanicsburg 0 0 7 7 – 14
First Quarter
None
Second Quarter
C-Josh Zipperer 39 pass from Louis Shank (Dirk Godjin kick), 6:14
C-Eli Hargrove 7 pass from Shank (kick failed), 2:17
Third Quarter
C-Jeremiah Snyder 3 pass from Shank (kick blocked), 10:01
M-Jeffrey Lougee 67 run (Niko Lederbohm kick), 9:39
Fourth Quarter
M-Lougee 8 run (Lederbohm kick), 10:02
C-Kareem Lawson 82 kickoff return (Snyder pass from Shank), 9:49
Team Statistics C M
First downs 14 13
Rushes-yards 39-140 35-195
C-A-I 9-15-2 2-15-3
Passing yards 116 13
Fumbles-lost 1-0 1-0
Punts-avg. 2-40 5-39
Penalties-yards 11-92 11-91
Individual Statistics
RUSHING: Carlisle, JC Smith 10-47; Ezeekai Thomas 15-77; Matthew Trollinger 1-2; Jeremiah Hargrove 1-5; Louis Shank 7-7; Eli Hargrove 1-14; Jeremiah Snyder 3-18; Jaqueece Morell 1-0. Mechanicsburg, Parker Sample 13-61; Sage Thomas 8-44; Seth Brubaker 3(minus-17); Jeffrey Lougee 11-107.
PASSING: Carlisle, Shank 6-9-1-104; Thomas 3-6-1-12. Mechanicsburg, Lougee 2-9-0-13; Brubaker 0-6-3-0.
RECEIVING: Carlisle, Matthew Trollinger 1-18; Smith 1-(minus-3); Josh Zipperer 3-86; J. Hargrove 1-12; E. Hargrove 1-7; Snyder 2-6. Mechanicsburg, Rashawn Holton 1-3; Daniel Francis 1-6.